Can You Solve This Year 1 Maths Homework Question? Because We Are Struggling TBH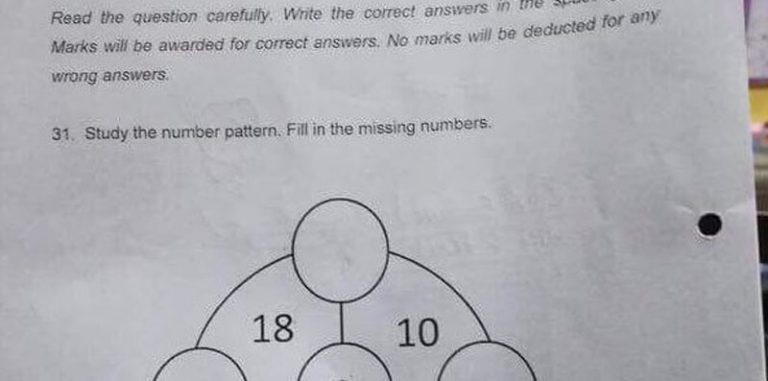 Can You Solve This Year 1 Maths Homework Question? Because We Are Struggling TBH
Hello, and welcome to the latest in the series of Homework Questions For Small Children That None of Us Grown Ups Can Answer.
Recently, we asked our readers if they could answer this tricky homework sheet designed for kindergarten children aged between 4 and 6. It had many of us stumped until the answer was revealed to be something completely stupid.
At least they are teaching kids that the world doesn't always make a lot of sense, right?
Now we have discovered a new homework sheet that we have deemed IMPOSSIBLE to answer.
This one comes out of a Singapore year 1 maths class. See how you go…
Study the number pattern and fill in the missing numbers it says.
"Yeah right," I says.
A bewildered parent uploaded this stumper to a forum somewhere asking for others to help with the answer.
Lots of people had a crack and immediately declared it "too hard", as did we. But some clever clogs did figure it out eventually, but the correct answer is yet to be confirmed by the class teacher.
Y'all ready for this? The guy who answered it even included the word "simple" to describe how he came to the conclusion. Smartarse.
"Simple, it is the quantity of numbers with more than one digit that the circle touches". So the circle at the very top touches the numbers 18 and 10, both with two digits giving the answer of 2. The answer of 3 in the centre is derived from the numbers 18, 10 and 12.
Now, there is something here that we need to take into consideration for first graders – context. While there is no context on this worksheet for us, this may be something they've all been working on for a week that they fully understand. We do not have the benefit of this extra information.
But still, that is some hardcore Sheldon Cooper shit. Would you have found the answer if your child had brought that homework sheet home? I wouldn't have.
Source: Hardware Zone