The Condom Makeup Sponge is a Thing and it Works!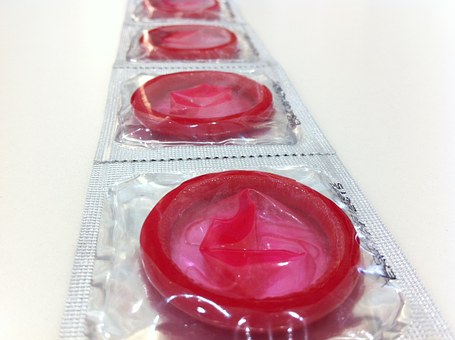 The Condom Makeup Sponge is a Thing and it Works!
I'm sitting here wondering if my daughter-in-law, Danni told her work colleagues that she dropped a condom off to her mother-in-law this morning on the way in…or what the postie may have thought when he saw it in my letterbox.
I was being a tightass and didn't want to fork out for a whole box to experiment…putting my foundation on with a franger.
Yes, you read that right. Putting my foundation on with. a. franger.  And I'm not too sure Danni actually believed me when I said why I wanted it, although she should be used to this kind of stuff by now.
And why the hell was I doing this? Because of this article by Pedestrian.tv reporting on a recently discovered use (other than the obvious) by two YouTube beauty bloggers who were also testing it out for the first time and much to their surprise they were both super impressed.
My daughter is a professional makeup artist and amongst her massive tool kit is a plethora of makeup sponges which she has to use for hygiene reasons. Fingers carry bacteria and brushes can only be used once before having to be washed and disinfected. The problem with the sponges is that so much of the product gets absorbed into them and wasted which is why I have never been a fan. They also have that weird rubbery smell which freaks me out.
This was widely recognised as a problem in the beauty industry so some clever individuals came up with the Silisponge last year, a silicone makeup sponge which blends your foundation without wasting any product. It was so popular it immediately sold out with lots of imitators hot on their trail like the Evie Blender. The only problem with these silicone sponges were they didn't blend quite as well as their original counterparts.
Itzayana Lizbeth a beauty vlogger wrote on her Instagram account just last month "that she had come up with the idea of using a condom because she loved using a sponge but it absorbs so much product. Using the condom around it, it doesn't absorb any product and it applies super smooth."
Laila Tahri, another beauty vlogger agrees with her and demonstrates below.
Good research dictated that I actually try this out for myself. As recommended by both ladies, I thoroughly washed my condom first to remove any lubricants and then looked for something to fill it with. I didn't have a makeup sponge (but I highly recommend you do that rather than filling it with ummm, white liquid like Itzayana did because ewww and danger of spillage) and filled mine with water, tied it in a knot and set to work.
The results: AH-MAZING. Using the condom my foundation application was fast, it was smooth, I could use the tip to get in around the corners of my eyes, nose and mouth and I guess condoms, which have not been in my grocery trolley for about 20 years will now be making a regular appearance at the check-out!
Condoms – not just for dicks!