Controlling Bride Plans to Confiscate All of Her Guests' Phones During Her Wedding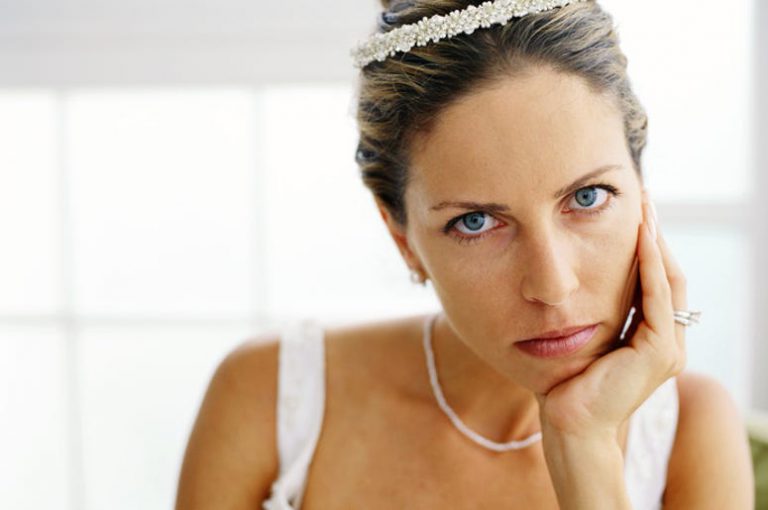 Controlling Bride Plans to Confiscate All of Her Guests' Phones During Her Wedding
Not willing to trust her guests to be adults and do the right thing by putting their phones away at her wedding, one bride has taken her plans to control her guests to a whole new level. She intends to confiscate every guests' phone as they enter her wedding and return them at the end of the reception via a fun guessing game.
Sharing her bizarre idea to the Facebook group "That's It, I'm Wedding Shaming", the woman unleashed a tirade of word salad calling her guests selfish for not wanting their phones taken off them during her big day.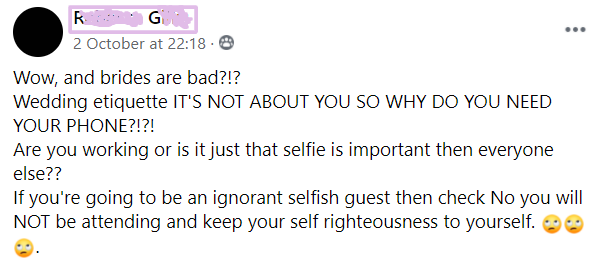 "RG" then supplied some screenshots from an argument that she had previously had with what we can only assume to be her own guests.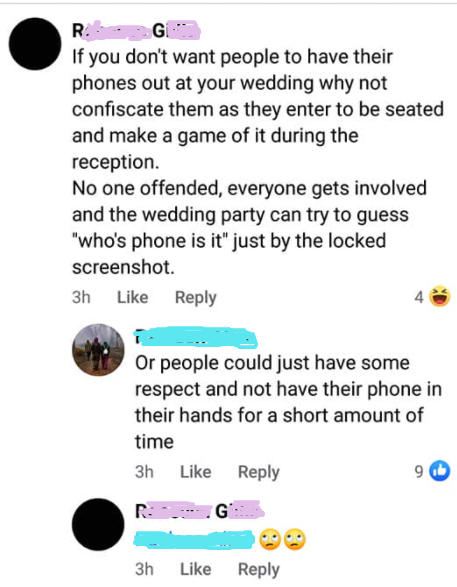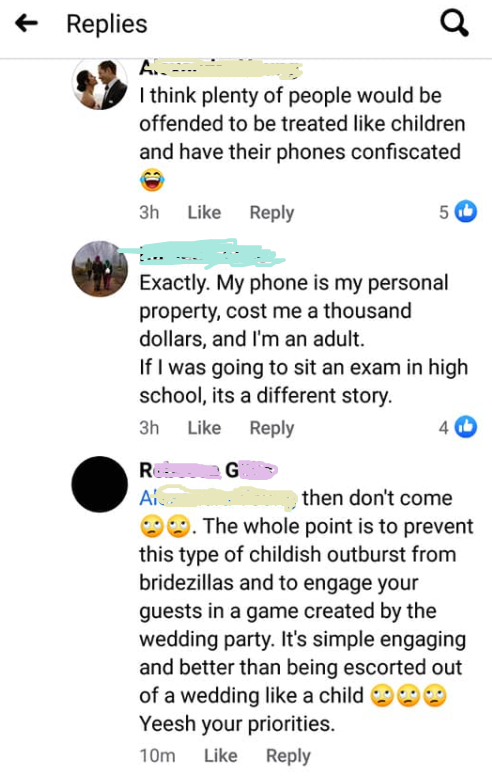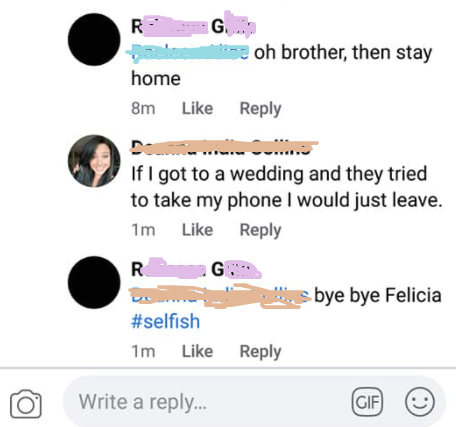 Having an unplugged wedding is quite the norm nowadays. We've all seen the horrific images of Aunt Brenda standing in front of the professional photographer to snap a pic of the newlyweds sharing their first matrimonial pash, ruining the moment for everyone and ensuring there is no other photographic evidence of the moment save for her blurry snap with her thumb in the frame. No one wants that for their wedding, and asking your guests to refrain from taking photos is more than acceptable, it has become the polite thing to do.
Furthermore, we all know to put our phones on silent when attending any sort of event where a noisy device would cause a disturbance. Generally, people have respect for their loved ones on their big day! It's common sense.
Being threatened with having your phone confiscated does nothing but tell her guests that they are all children that cannot be expected to behave appropriately before they even enter the room. Not even giving them the chance to do the right thing before their phones are snatched from them.
People agreed in the comments:
"It's selfish to take people's personal property because you can't stand to not have 100% of the attention on you at all times."
"Sucks you don't have people at your wedding who are respectful enough to keep their phones away. But I'll be damned if someone tries to take my property just so I can attend their dumb ceremony."
"Yeah, I'm not handing over my phone. That's ridiculous. Keep your hands off my stuff. I'm ignorant and selfish for not wanting to put my phone in a bag with 100 other phones? You're insane."
"I'm not fucking 12, and you're not confiscating my phone and playing a dumbass game with my thousand dollar investment. You fucking walnut."
We liked that last comment the best.
What are your thoughts? Would you happily hand over your phone for the day? Sound off in the comments!
Source: Facebook/That's It, I'm Wedding Shaming