Dad Gets A Tattoo Of His Son's Cancer Surgery Scar To Make Him Feel Less Self Conscious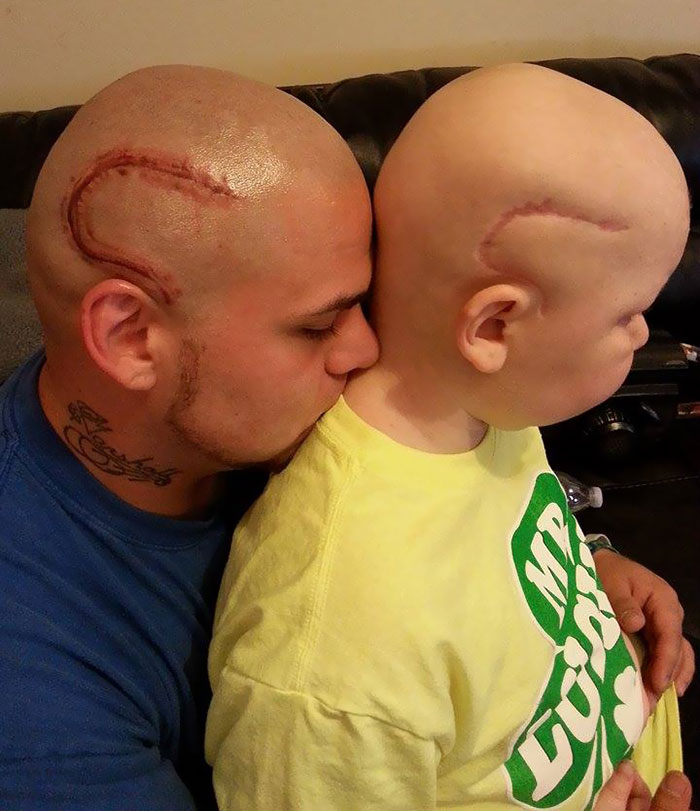 When it comes to our kids, there's pretty much nothing we wouldn't do to take away their pain or help them feel better. Seeing your child suffer is possibly one of the worst emotions a parent can endure. Our instincts are to soothe, heal and nurture.
A father from Kansas in the US has proved just how far a parent will go for their child. Josh Marshall's son Gabriel, was diagnosed with a malignant brain tumour in 2015 and had to undergo extensive surgery which left him with a large scar on the side of his head.
The son felt very self conscious of the scar and was very embarrassed to go out in public because people would stare at him. So his dad decided to do the most amazing thing for him. He got his son's scar tattooed on his head so they could both look the same!
"Wow I never imagined this picture would blow up like it did," wrote Josh on his Facebook page.
The photo has gone viral since Josh posted it to his Facebook page. It originally appeared on an Instagram account called Aesthetic Revolution alongside a caption that reads: "One's a real scar. One is a tattoo to show support and make him feel normal. Father of the year?"
Absolutely!! What a guy!
Photos courtesy of Facebook.