Desperate Bride Places an Ad to Get a Date for Her 'Needy' Mother-in-Law on Her Wedding Day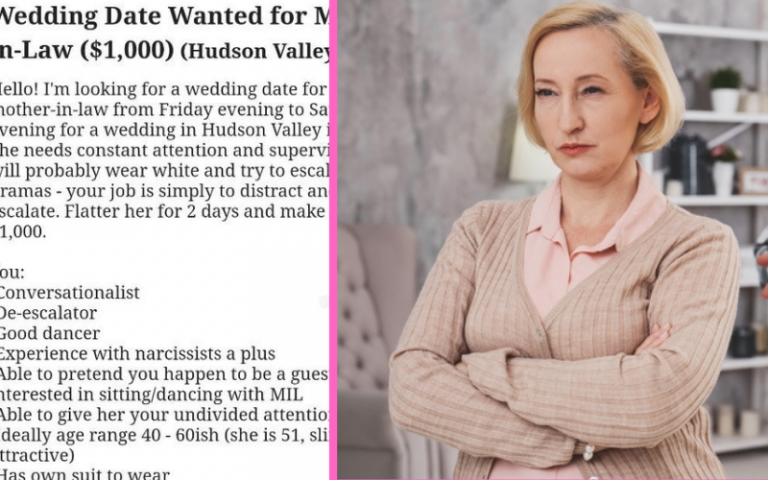 Desperate Bride Places an Ad to Get a Date for Her 'Needy' Mother-in-Law on Her Wedding Day
Weddings have a tendency to make people act a little crazy, especially if they are already a bit over-the-top in their normal lives. Bonus points go to this attentive bride who spotted a potential problem and nipped it in the bud before her mother-in-law ruined her wedding day.
Placing an ad on Craigslist, the bride from Hudson Valley in New York requested help in distracting her "needy" mother-in-law so she didn't take over her big day.
In the ad, she writes: "I'm looking for a wedding date for my mother-in-law from Friday evening to Saturday evening for a wedding in Hudson Valley in August. She needs constant attention and supervision. She will probably wear white and try to escalate small dramas – your job is simply to distract and de-escalate. Flatter her for two days and make an easy $1,000."
The ideal candidate will have "experience with narcissists" and be a good conversationalist with dancing skills.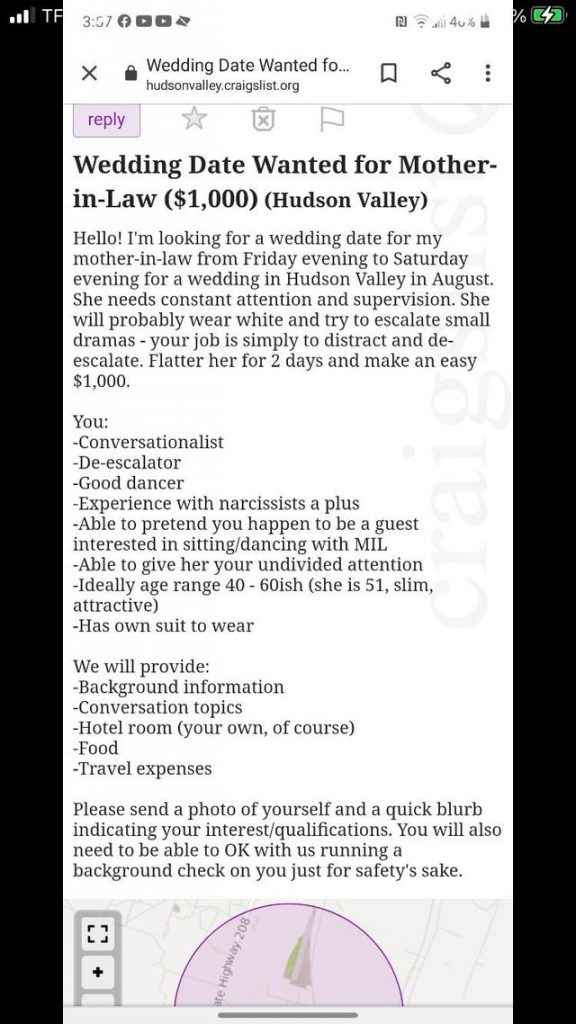 Sounds like a pretty good deal to me!
The ad has since been shared on Reddit, with users applauding the "brilliant" idea.  Commenting on the post, one wrote: "Love it. A true 'throw some money at the problem' response."
"Know your enemy," added another.
"This is an incredible idea, actually. People pay a lot of money for their one special day that often (?) ends up somehow being ruined by a MIL like this. I'm sure any couple would be willing to pay $1k for the peace of mind."
With the screencap of the ad going viral, it is hoped that the needy mother-in-law will somehow miss the publicity surrounding the request for a wedding handler to deal with her.
Fingers crossed that the happy couple enjoy a stress-free day!
Source: Reddit/Wedding Shaming