Dove Admits They Missed The Mark With Racist Advertising Campaign!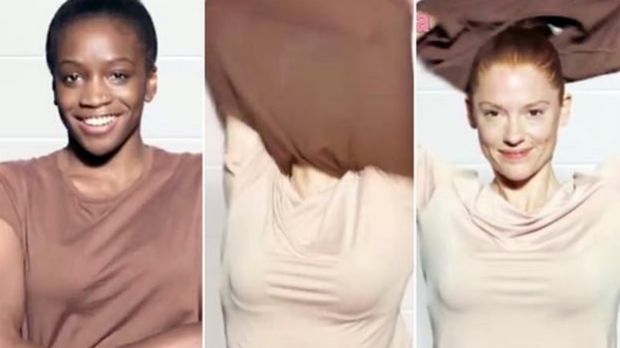 Dove Admits They Missed The Mark With Racist Advertising Campaign!
Dove has apologised for it's latest advertisement featuring a black woman removing her brown t-shirt and turning into a white woman after using their body wash. The company admitted that it had "missed the mark" with the racist advertisement that has caused a social media storm from outraged customers.
The ad was a compilation of four photos showing a dark-skinned woman using a bottle of Dove body wash pictured in the lower right-hand corner of the picture. In the following frames, the woman reaches down and lifts up her shirt to reveal a smiling white woman.
All this advertisement has managed to convey is that there is no woman of colour on the executive board at Dove. There is no way on earth a black woman would've been okay with these images and the message Dove was sending.
Actually on second thoughts, was there no-one (of any colour or ethnicity) that didn't see the racist connotations associated with this ad? That if a black woman washed herself with Dove she would rid herself of the 'dirt' ie. HER COLOUR and become a smiling white woman?
In a statement, Dove said the video clip "did not represent the diversity of real beauty which is something Dove is passionate about and is core to our beliefs, and it should not have happened".
"We apologise deeply and sincerely for the offence that it has caused," it said.
The scary thing is, this isn't the first time Dove have 'missed the mark' with their ad campaigns. A 2011 ad was also deemed racist for showing two women of colour and a white woman standing in front of "before" and "after" signs.
Okay, Dove…
One racist ad makes you suspect.
Two racist ads makes you kinda guilty. pic.twitter.com/hAwNCN84h2

— Keith Boykin (@keithboykin) October 8, 2017
What was Dove thinking invoking the archaic stereotype that black is dirty and white is pure? Or that black skin can or should be cleansed away? And did Dove really believe that the ad would make more people of colour want to buy its products?
"What exactly were yall going for?," one Dove consumer said on the company's Facebook page. "What was the mark … I mean anyone with eyes can see how offensive this is. Not one person on your staff objected to this? Wow. Will not be buying your products anymore."
Others pointed to historical examples of racist ads about soap so good that it apparently washes the colour right out of your skin.
The history of the soap and cleansing industry has done this. No way @Dove didn't know this. There are pics of Black babies being washed yt https://t.co/MxPrfAAU6a

— George M Johnson (@IamGMJohnson) October 8, 2017
It's a real surprise that a company like Dove would make such a dire mistake not once but twice. Especially considering they're such an advocate of the "Real Beauty Pledge," a vow to feature "real women of different ages, sizes, ethnicities, hair colour, type or style."
We're baffled and deeply disappointed in Dove. Hopefully whoever was responsible for executing this poorly thought out campaign has been dealt with accordingly!
Images: Dove and Twitter