Family Taking Photos on Railway Tracks Narrowly Escapes Train in Terrifying Video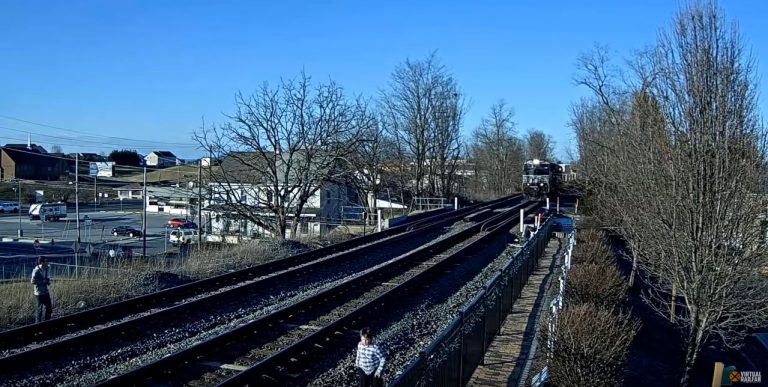 Family Taking Photos on Railway Tracks Narrowly Escapes Train in Terrifying Video
There aren't too many things more dangerous and utterly stupid than playing on railway tracks. So the mind truly boggles when you see grown adults allowing their children to play on active railway tracks while a photographer happily snaps candid photos of them. What on earth were they thinking??
The frightening footage of five children narrowly escaping an oncoming train just moments after posing for photos has gone viral, leaving many people shaking their heads.
On Monday, a two-minute clip of what could have been a tragic accident hit YouTube, shared by locomotive enthusiast Virtual Railfan. Footage of the family's close escape from the speeding train's path has since been viewed over 90,000 times.
They captioned their viral video "Please, please, please stay off the tracks and railroad property! This could have been beyond tragic!".
The footage was caught on camera at Greencastle, Pennsylvania in the USA.
As seen in the video, the family, including five children, wandered all over the set of two train tracks. Two adults who are assumed to be their parents chatted to a photographer who took some photos of the blissfully ignorant family.
About one minute into the clip, as the kids were scattered all over the tracks, one of them screamed "Here comes the train!"
The children screamed and hurried to the sides of the railway lines, leaving the smallest child struggling to get out of the way of the freight train barreling along towards him. Another child had to sprint to retrieve the terrified child.
There aren't too many parenting decisions that are completely black and white. Oftentimes parents can justify reasons for doing things the way that suits their family and that is fine.
There is absolutely NO justification for heading out for a photoshoot on active train tracks. There is NO justification for allowing five children to climb and run and play on train tracks.
It is so wrong and dangerous that it is not acceptable under ANY circumstances. It shouldn't need to be said, but I'll say it anyway: DO NOT PLAY ON TRAIN TRACKS!
Unbelievable.
Source: Youtube/Virtual Railfan