First Time Mum Demands That Her Sister in Law Take an STD Test Before She Holds Her Baby
First Time Mum Demands That Her Sister in Law Take an STD Test Before She Holds Her Baby
Becoming a mother for the first time changes a woman in ways that she never imagined. We suddenly become mama bears willing to do anything to protect our innocent babies. So it is totally understandable to request that family, friends and other loved ones are healthy and up to date with their vaccinations before they hold your newborn. Especially during a pandemic.
But one mum has taken this newfound responsibility way too far, insisting that her sister in law take a full STD test before she is allowed to hold her baby.
The overprotective mother hasn't asked anyone else to provide their private medical details though, just her single sister in law. This upset the sister in law enough to ask total strangers on the internet if she should go ahead with the sexual health check to keep the peace.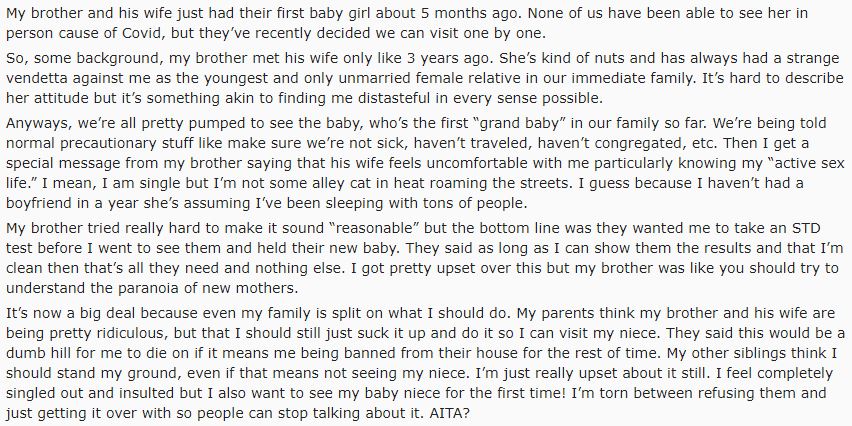 Again, totally normal to get a booster shot for whooping cough, measles etc, and to make sure you don't have any contagious illnesses or active cold sores before holding people's tiny defenceless babies. We're not saying that there is anything wrong with insisting that friends and relatives won't pass on any nasties to infants who don't have a strong immune system yet.
But to request an STD clearance? How on earth does this woman think that her sister in law is going to pass along an STD to her baby?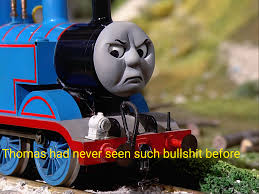 People on Reddit's Am I The Asshole board agreed:
"That is a ridiculous test to have to take. It's invasive and personal and has nothing to do with holding a baby. They are rude for asking and although they have every right to protect their child- this seems more like a moral test than anything else," wrote one advisor.
"I'm just in awe of the audacity of the new mum by requiring an STD test from only 1 family member. What's next? Requiring biannual HIV testing before allowing you to share food with the baby?" added another.
"I really have never heard of such a thing. I mean, you're not planning, I assume, to have sex with the baby, are you? If not, then what difference does it make? Sexually transmitted diseases are sexually transmitted. You wouldn't give it to the baby if you did have something," commented a third. "Further proof of her foolishness: did she demand that all the staff in the hospital get tested for STDs, too? Did she demand this of the baby's pediatrician? Well, why not? She doesn't know where they've all been and who they've been with. She's just trying to control you because she's not even being consistent with her insanity."
Honestly, have you ever heard of such a thing?
Insanity.
Source: Reddit/Am I The Asshole