These Four Photos of Jeff Goldblum Look Like He's in a Reboot of Sex And The City Playing All the Characters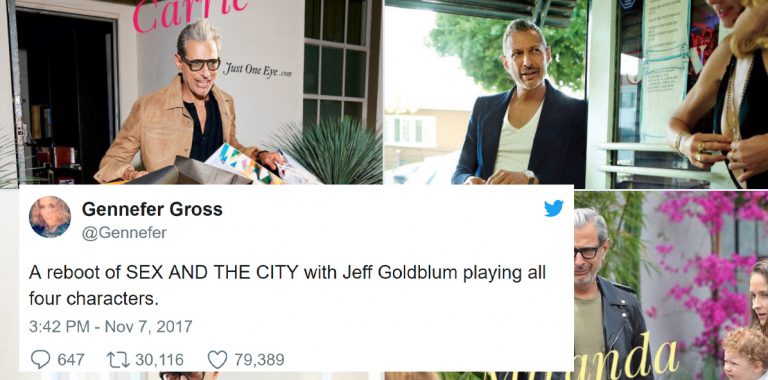 These Four Photos of Jeff Goldblum Look Like He's in a Reboot of Sex And The City Playing All the Characters
Before we start, let me just acknowledge how wonderfully awesome the internet is as a whole. People come up with the most amazing shit, and I'm only too happy to share that with all of you.
Someone has realised that these four random pictures of Jeff Goldblum make it look like he's starring in a reboot of Sex And The City and playing all the iconic characters by himself. And it's so gotdarn perfect that it wins the internet for today.
Behold:
That is priceless! And so accurate I can't even.
The images were found across the internet in a variety of different publications and contexts, like a GQ photoshoot (Samantha) and a paparazzi shot of Jeff enjoying brunch with his wife and son (Miranda).
"I think I may have just singlehandedly resurrected SEX AND THE CITY 3" says Gennefer Gross after going viral with over 100,000 retweets and likes in a very short period of time.
A reboot of SEX AND THE CITY with Jeff Goldblum playing all four characters. pic.twitter.com/3PXrdtC32R

— Gennefer Gross (@Gennefer) November 7, 2017
Naturally, Gennefer's discovery has been met with loads of support from the SATC fandom.
When people ask me if I'm a Carrie or Samantha from now on I'm gonna say I'm a Jeff

— Annabelle Carberry (@ajcarberry) November 7, 2017
IMAGINE the opening sequence of him chasing balloons in a tulle skirt

— Abbey Stanford (@abbeystanford90) November 7, 2017
Surely *every* film or television series could be improved by having Jeff Goldblum play all the characters?

— Neil Emery (@nt_emery) November 7, 2017
How utterly perfect! Someone needs to make this happen. Please?
What do you reckon, would you watch a Sex And The City reboot if all the main characters were played by Jeff Goldblum? We totally would!
Source: Twitter/Gennefer Gross and Giphy