WIN a Beautiful Bed Canopy & Rug from Freddie & Ava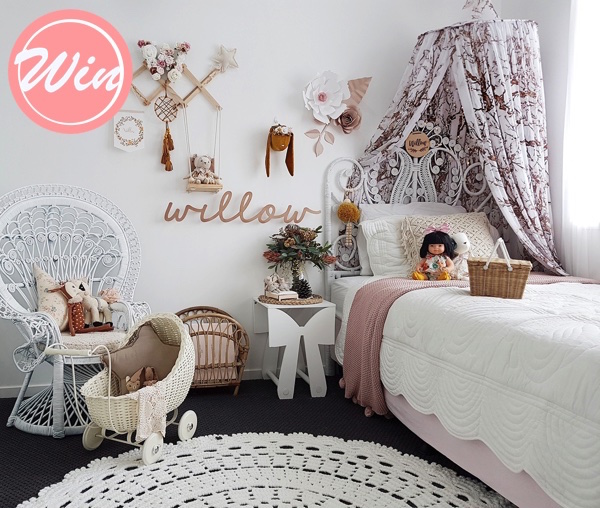 WIN a Beautiful Bed Canopy & Rug from Freddie & Ava
A Beautiful Kids Bed Canopy – The Designer Look For Your Dreamy Interiors
Every kid deserves a space to call their own. Encourage sweet dreams and creative play in your child's bedroom with a Freddie & Ava bed canopy.
Place a stunning, colourful canopy over the bed to create a magical secret spot for rest time. When your little one is not asleep, their canopy bed doubles as a pretend play space or cosy reading nook. What else could it be? Let your imagination run free!
The Freddie & Ava canopy collection is all about creating treasured childhood memories and having fun while you're at it. What's more, they bring instant designer style to any room.
Swoon no longer over stunning children's bedrooms on Instagram! You can have your very own 'Insta worthy' bedroom fit for a princess, dreamer, fairy catcher or lover of magic and imagination with Freddie & Ava's children's bed canopies and rugs. Australia designed by Freddie & Ava, their rugs & canopies are timeless. They work well with almost any kid's bedroom décor and ooze style without the luxury price tag.
A kids' canopy makes a bedroom extra special
Made from super soft, 100% high quality polyester. Create an instant secret hideaway with a Freddie & Ava canopy. A canopy is the perfect place for your child to indulge in some of their favourite bedtime stories. Set the scene by hanging fairy lights or flowers from the central ribbon loop and open and close the canopy using the draw back ties.
Rugs
A gorgeous, unique stand out piece! Freddie & Ava Rugs will add something special to your little one's room.
Their Luxurious, Thick Crochet Rugs are made with the highest quality cotton to give you one of the softest rugs you ever did see.
Each rug is individually handmade with love and care.
Thanks to our friends at Freddie & Ava we have a beautiful Wildwood Canopy RRP: $179 and 150cm Avalyn Rug RRP: $170 to GIVE AWAY to one of our lucky readers. If you know someone that would love these, simply enter your details below and good luck x