Is Target Missing the Mark With Kids Clothes? It Seems Many Mums Believe So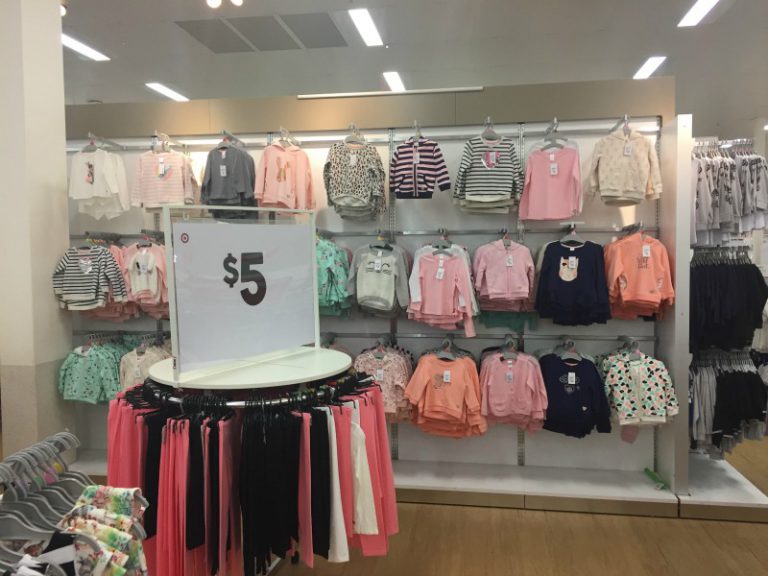 Earlier this week I headed to Target to buy my six-year-old a green outfit. This Friday is free dress day and she had to wear something green. After looking through her clothes, she owned NOTHING green, apart from her school uniform.
I decided to go to Target and buy some much needed summer and winter clothes, hoping I could get something that would fit her for next summer.
As I perused the aisles in the size 7-16 area, the clothes were drab and uninspiring. I looked down towards the size 1-7 range and the clothes were colourful and trendy. I crossed my fingers and hoped I could find something in a size 7 that would HOPEFULLY fit my daughter.
I headed down to this section and was able to get my daughter a mint green tutu skirt with a matching t-shirt and green stripe jumper. None of these options were available in the size 7-16 area. I made a mental note to not go to Target for when my daughter would require size 8 clothes.
It's seems I'm not alone in my experience with Target girl clothes in the aged 7-16 area.
One mum, Kellie Nooonan, recently put to social media what it seems most mums have thought or experienced when shopping for their daughters in the size 7-16 area.
Target… you are really missing the mark with your girls 7-16 range. If you would listen to the mothers who actually do the buying you would realise that many of us would love to see the 1-7 range in sizes 7-16. Many of us have young daughters who happen to be tall so they have grown out of size 7 by age 5 or 6. So at this point you lose our custom…the 7-16 range is either full of depressing, muted colours or moody, inappropriately sloganed items that no self respecting mother would put on their young child. Further, if you are aiming these items at teen girls you are failing to recognise that they don't buy from the children's department at Target. They shop in Valleygirl or Supre. Most items in the 1-7 range are perfectly appropriate for girls 10 or 11. This is what Zara does. It has the same range in sizes up to 13/14. And especially since the closure of Pumpkin Patch we mothers need more options in this size range, for our daughters in particular. I believe that this model would actually improve your sales. Let's face it, it's the mums who do the shopping and you don't seem to understand that so many of us want options in this size range that are not boring, adultified or, God forbid, sexualised . There is truly a gap in the market and if you are clever you will work to fill it.
So far the post has received over 17k reactions and has been shared nearly 500 times.
One commenter wrote, "You read my mind! Agree 100%. Targets 7-16 is appalling. I'd love my 8 year old to have a few more years in the 1-7 but she just doesn't fit."
While another wrote, "I completely agree! I am always drawn to the size 1-7 range design and colour wise and so disappointed that my daughter is stuck with what's in the 7-16 section."
It seems the boys department isn't much different with one mum writing, "And boys are the same. My boy is 5 and in size 10 . He gets quite upset that he can't have any character shirts cause they too little . And the bigger sizes r boring."
The simple solution is to expand the 1-7 range into the size 8-16 area.
As my daughter grows, I do think about where I'm going to buy her clothes from, because it's fairly slim pickings, with some stores catering more to size 1-7 range.
We'd love to hear what you think? Do you find it hard looking for clothes for your kids that are age-appropriate and fit their size? Where do you get your kids clothes from?