High Heeled Crocs Are Set To Be The Next Big Thing This Summer!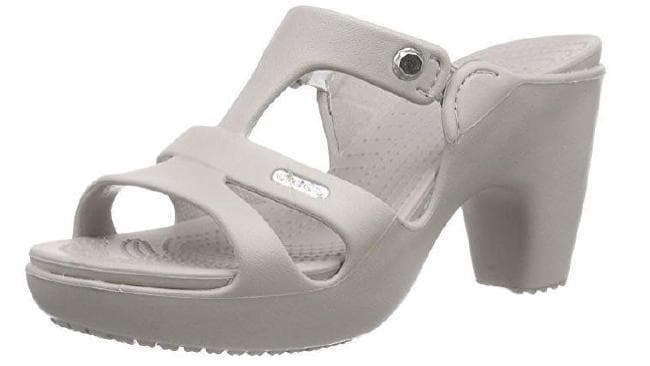 High Heeled Crocs Are Set To Be The Next Big Thing This Summer!
Writing this piece on the high heels Croc left me bewildered and astounded for two reasons. One, I thought Crocs were just for kids and gardeners and two, why make a high heeled version of the shoe if the whole point is comfort?!
While most of us wish the Croc shoe would disappear into the abyss of fashion has-beens it seems they're not going anywhere! You see the high heeled Croc has been spotted over on Amazon, where the product description reads: "This version has an elegant strap design with a little more top-of-foot coverage and attractive metal hardware around the collar. You'll appreciate the subtle elastic on the straps for a more forgiving fit. And we know you'll like the Croslite foam footbed for all of the cushion and comfort it delivers."
They'll set you back just $70.00  and are available either in grey/platinum or black.
And if you're left scratching your head as to WHO ON EARTH WOULD BUY THESE then keep reading. Below are some positive customer reviews left on their website:
"Great to have a croc with a heel able to walk in and wear for a length of time."
"I love these freakin' shoes. They're so comfy and cheap and stylish enough for casual outfits. Highly recommend. (do wish the crocs logo didn't exist though. pretty much the only reason I knocked off a star.)"
"I loved the shoe so much that I wanted to purchase another one, but unfortunately they had sold out. These are the most comfortable and coushiony shoes ever. You just have to get used to the bumpy surface on the sole of the shoe. It is made to stimulate circulation, I guess, but at first it was a bit uncomfortable, than you break them in and Oh how wonderful they are!"
And if you thought it was just the gardeners of the world that have been flocking to put these plastic creations on their feet- think again! You see, high fashion houses like Balenciaga believe high-heeled Crocs are actually all the rage – so much so, in fact, that they're charging $1,150 for a platform version of their own!
The Balenciaga description says: "Balenciaga casts the classic Croc slipper in a punk-ish new light for SS18. In a whimsical bubblegum-pink hue, the front is decorated with a selection of irreverent pop-culture charms including logo plaques, avocados, flags, and pug faces to create an effect like a fridge of souvenir magnets. Take advantage of the high platform sole to lift an ankle-skimming dress."
What the actual F is going on? Have we stepped into a parallel universe where these hideous creations are actually considered 'high fashion'? Is it just me or would you rather walk a mile barefoot on sharp nails rather than put these on your feet as well!
Images: Amazon and Balenciaga