IKEA Responds To Balenciaga's Lookalike 99c FRAKTA Bag!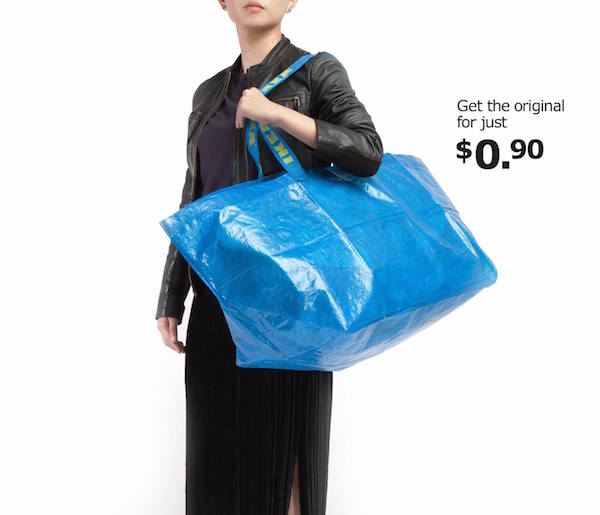 IKEA Responds To Balenciaga's Lookalike 99c FRAKTA Bag!
Swedish home furniture retailer IKEA has responded to French fashion house Balenciaga over news it was selling a $2000 version of it's iconic blue FRAKTA bag.
Baleciaga debuted it's lamb-skin leather bag with a price tag of $2150 which was an homage to the 99c IKEA carry all.
IKEA's hilarious come back was released on Instagram as an advertisement and gives customers tips on "How to identify an original Ikea Frakta bag."
These are:
1) Shake it: If it rustles, it's the real deal.
2) Multifunctional: It can carry hockey gear, bricks and even water
3) Throw it in the dirt: A true Frakta is simply rinsed off with a garden hose when dirty.
4) Price tag: Only $0.99.
Ikea's social media platforms around the world including Singapore, Malaysia, Sweden, UK, and Hong Kong, also took to Instagram to express their delight in the fact the luxury fashion house has used the FRAKTA bag as inspiration. After all the expression does say-  imitation is the sincerest form of flattery.
IKEA Hong Kong wrote- "Sturdy, classy, and now a fashion baby. We love FRAKTA blue bags for so many reasons, now we got you more ideas to use and reuse our blue bags."
IKEA Sweden said- "This spring's 'it' bag is here! Sometimes it's easy to keep up with the world of fashion. Ours is 19,995 kronor cheaper, however."
And IKEA UK wrote this on it's homepage – "The ultimate companion for life's catwalk. This timeless classic, designed to be as functional as it is blue, fits any outfit, in fact 25kg worth."
Brilliant!!
Photos: Instagram