Marie Kondo Reveals Four Daily Rituals That Will Not Work for Pretty Much Any Family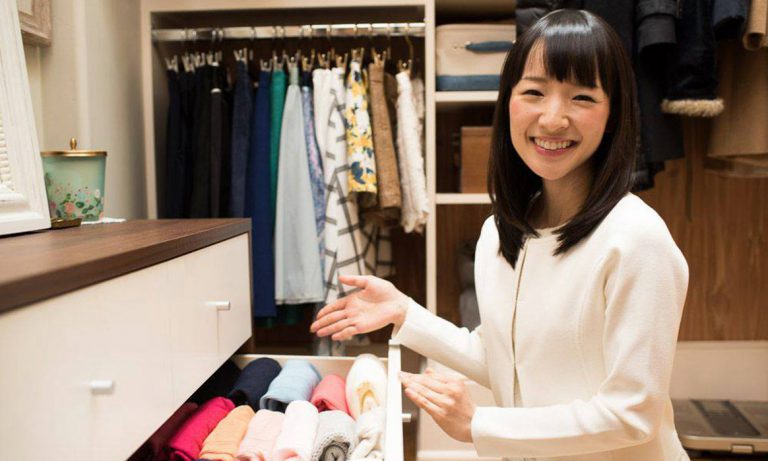 Marie Kondo Reveals Four Daily Rituals That Will Not Work for Pretty Much Any Family
Everyone's favourite Japanese organisation and tidying guru, Marie Kondo, has revealed the four daily rituals that she utilises every day to keep her home spick and span and her life neatly organised. And none of these helpful tips are very helpful for families with children at all.
Look, I am not dissing the queen of decluttering for a single moment — lord knows I need all the help I can get! But her latest tips on keeping a neat and tidy home are complete bullshit.
Let's go through them one at a time, shall we?
Ritual #1
"When I come home at the end of the day, I wipe the soles of shoes with gratitude before storing them in the closet near the entryway of my home," Marie told People.
I dunno, a wet cloth sounds more effective. It's hard enough to get kids to put their shoes away, nevermind cleaning them all each and every time they come in the house! There are more important things to enforce than constant shoe-cleaning.
Ritual #2
"I store items vertically in my handbag, so I can see everything and so the items are easily accessible. I like to use individual pouches — with patterns, colours and fabrics that spark joy! — to help keep things organised in my purse."
Yeah, that sounds like a lot of work to only get ruined by snotty tissues and half eaten biscuits and random plastic toys every time we leave the house. It sounds super cute though.
Ritual #3
"I use boxes to sort items and stand everything vertically in my refrigerator," she says. "I even use boxes inside the shelving on the refrigerator doors to keep condiments and sauces separated."
Hey, I'm not here to argue that those pull out boxes where we store jars of mustard and jam aren't a great idea. Those are fab. But buying new boxes for the fridge door? And expecting your kids to put things back in them? Nup, no time for that either, sorry Marie!
Ritual #4
"I do not keep my shampoo bottles in the shower or bathtub; I wipe them down and make sure they're completely dry after use, returning them to their home in a basket under the sink," says Kondo. "This makes cleaning the bathroom easier and prevents the buildup of mildew."
Who has the time to walk around drying shampoo bottles of an evening? If you do decide this bizarre ritual is for you, then you'll also be signing up for returning the shampoo bottles to the showers and baths when it's time to wash hair, otherwise there will be lots of wet footprints to and from the basket under the sink to retrieve said tidily stored items and then you'll have the floor to dry as well as the shampoo bottles. No thank you very much.
Sorry, Marie, I love you to bits, but these rituals will not work in my house! Would they work in yours?
Now, because I've just shut down the greatest treasure that home organisation has ever had, I best put my money where my mouth is and add some of my daily rituals that I stand by and that works for my family:
Put a load of washing in the machine first thing every morning, then hang it on the line, on the rack or pop it in the dryer ASAP. As soon as it's dry, fold it and put it away – never leave it in the basket or it will never get done. Do this every day or as often as required and you'll be on top of your laundry in no time.
Every night before bed pack and run the dishwasher, even if it's only half full. Put it away in the morning while you wait for the kettle to boil or the coffee machine to warm up.
Meal plan every week and do one grocery shop for the lot. It will work out cheaper in the long run and you'll avoid the dreaded "what's for dinner" question that pops up in your head around 4pm.
Have a "one-touch" paperwork policy – instead of opening the mail and leaving it lying around or losing it, deal with it as it comes in so you don't have to think of it or pick it up again. If it needs further attention, write the details into your diary or planner to deal with on another day.
Yo Netflix, if you need an Aussie suburban wine mum version of Tidying Up with Marie Kondo, hit me up. 😂
Source: Giphy and Netflix