Mum Accidentally Posts a Very NSFW Internet Ad for a Wardrobe That She Wanted to Sell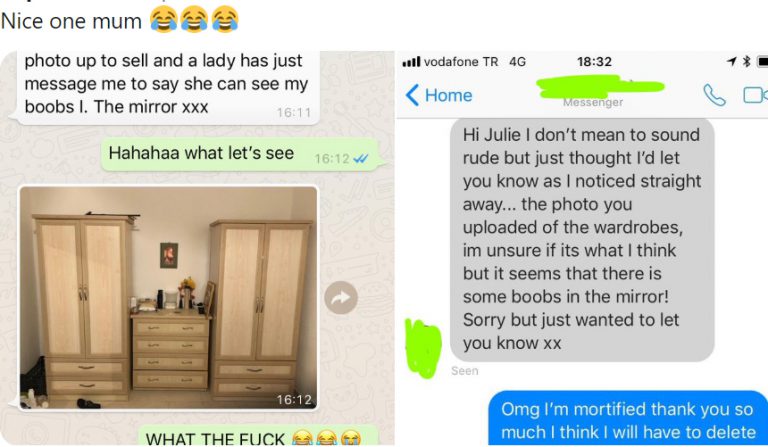 Mum Accidentally Posts a Very NSFW Internet Ad for a Wardrobe That She Wanted to Sell
A UK mum has made a bit of a boob out of herself after unintentionally posting a very NSFW internet ad for a set of wardrobes that she was hoping to sell.
The woman, known only as Julie, was alerted to her accidental entry into the reflecto-porn hall of fame by a helpful Facebook user who noticed a very nice pair of boobs in her wardrobe images that she had uploaded online, most likely to Facebook Marketplace or a local buy, sell or swap group.
She sent a cautious heads up to Julie to let her know:
Unfortunately for Julie, she told her daughter about the hilarious incident, complete with the NSFW picture that she shared online of her wardrobe. Julie's daughter, Sophie, then told the entire internet via her Twitter account.
*note to self, don't ever tell my daughters anything embarrassing about my daily life, ever.
What a glorious pair. Although the handles are at slightly different heights, they are set high and perky with decent drawers underneath. All in all, they are both in very good nick!
I wonder what she was asking for them?
The wardrobes, I mean. I wonder if she was planning to throw in the chest of drawers as well?
And because I know who y'all are, to save you trying to make the screen all big and stuff, here is a closer peek at Julie's fabulous rack. 🙄
Let that be a lesson to all of us – always check all reflective surfaces if we are taking pictures to sell something while stark naked. That is all.
Nice one mum 😂😂😂 pic.twitter.com/pxEgu8mPR4

— Sophie Eke (@sophieeke_) October 13, 2018
Source: Twitter/Sophie Eke