Could the Euroflex Monster Floor Steamer Be the Answer to Your Floor Cleaning Woes? 5 Aussie Mums Give Their Verdict PLUS GIVEAWAY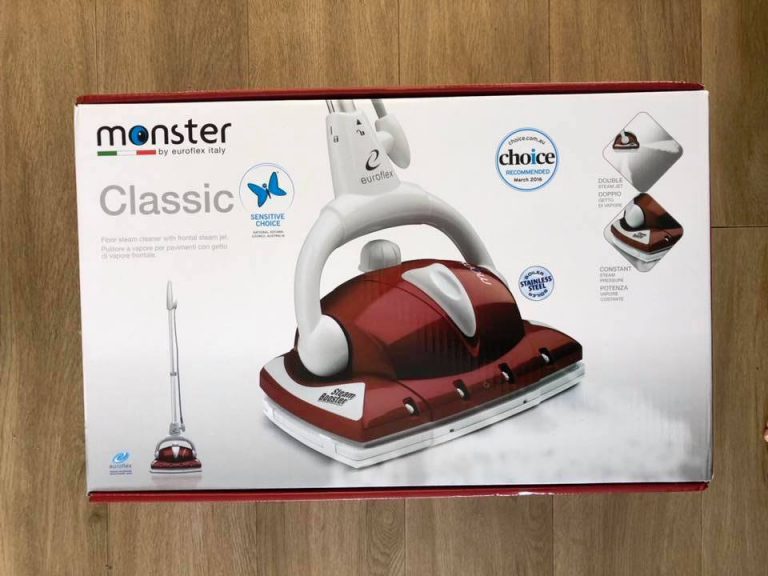 Could the Euroflex Monster Floor Steamer Be the Answer to Your Floor Cleaning Woes? 5 Aussie Mums Give Their Verdict PLUS GIVEAWAY
We know that keeping your floors clean, especially when you have little ones, is both important and challenging! If there is a product that can make your life a little easier, trust us, we want to know about it just as much as you do!
But with so many options available it can be hard to know what's the best, most convenient and hygienic option.
Last month, five Mums Lounge readers were invited to trial the Euroflex Monster Floor Steamer in the comfort of their own home and share their honest feedback and thoughts.
Here's what they had to say…
Reviewer: Amanda, NSW
Flooring: Tiles and laminate flooring
When choosing cleaning products price is important. I want to make sure that I am getting good value for money. I have two small children, so I also want them to be as natural and environmentally-friendly as possible.
The Euroflex is very good value for how sturdy the machine is and the job it does. Zero chemicals and all natural so I was very happy.
When it arrived the box was smaller than I thought it would be but I was surprised at how sturdy the mop felt after being built! The instructions were clear and easy to understand.
The texture of the mop head made it great at picking up dirt with less running over an area. Floors weren't left dry but they did dry quicker than with other steam mops I have used.
I have previously used another brand of steam mop, but the Euroflex steam mop cleaned the floor more efficiently.
Liked the most: The stand up to turn off the steam function
Liked the least: The wait for the water to heat.
Verdict: I love it! It does a great job of keeping my floors clean. I will continue to use it and would recommend to friends and family because it is good value for money, and feels sturdy like it will last a long time.
Reviewer: Anne-Marie, VIC
Flooring: Wooden floor, tiles and lino
It was packaged up very nicely and I thought it was going to be small in size due to the compact packaging, but I was pleasantly surprised. The mop was larger than what I was expecting, and I found the instructions clear and easy to understand. It was easy to set up and was ready to use in under 5 minutes.
Once it was up to temperature, the mop was easy to use and left our floors clean and dried within a couple of minutes. The mop was used on wood floors, tiles and lino and performed well on all surfaces and cleaned some dried mess with a few glides of the mop.
I found the Euroflex overall was a better product with the different surfaces in our home with no streaks or pushing the dust bunnies around the house.
The main head was larger than I expected but I found it very easy to store with its self-stand function and parking pad.
On our wood floors it was very easy and removed the dried food stains from our children with a few passes across them.
It was quite easy to move but it was heavier than I expected, and more effort was needed to manoeuvre around my house.
I saved money not having to buy floor cleaner solution and took less than 30 mins to do our whole house and the first couple of areas were dry by the time I was finished doing the rest of the house. It allowed our family to all still be in the house when I mopped as it dried super quick as I moved from room to room. I also loved the fact that I don't have to use chemicals, especially with our baby starting to crawl.
Liked the most: The parking pad was my favourite feature which was something my old mop lacked. I especially liked not having to worry about the floors getting damaged from the heat when I finished mopping.
Liked the least: I found that there was no clear indication of how much water was left in the tank when finished which resulted in my overfilling when I used it the next time.
Verdict: I will continue to use the Euroflex steam mop for a long time to come. I found our floors very clean and quick drying and couldn't see any streaks on any floors. I'd recommend it to friends and family because it was super easy to use and had great features and good results on our floors.


Reviewer: Hayley Dean, NSW
Flooring: Timber floors, tiles and carpet
We have very limited storage space and by limited I mean virtually none. I am forced to purchase products that not only work well but are also compact. Having multiple pets (two cats, one dog) I need products that will stand up to the constant long hair without choking the product whilst also providing an effective clean. And finally, having two young boys (with a third child on the way) I need products that actually do as they say! I don't have time to waste on going back and forth with crap products, so I need it to work the first time.
I was extremely and pleasantly surprised by the size of the Euroflex steam mop. When the parcel was first delivered by the courier, I had no idea what it was as I was expecting something much larger. I really appreciate the collapsible handle and its compact size.
The pet hair did not seem to have a single impact on the machine. The hair did not get caught up in iy and the floor boards came up really well. I love not having to stop and clean balls of wet pet hair out of rollers! Lol!
Liked the most:
• It removed a black stain caused from a pot plant with ease
• The floor dried quickly
• I was able to get under the cupboard over hang and under the tv unit.
• It felt quick and so easy to use.
• I've never seen the floor so clean
Liked the least:
• The hook used to store the power cord continually caught on my pants pocket and drove me insane.
• I had no idea how much water remained inside the barrel.
Verdict: For my hard floors, I have always just used a mop and bucket. I never felt it had completely removed the food/dirt under my youngest's dining room chair. The Euroflex eliminated those marks with ease! The two methods are like chalk and cheese and to be honest, I actually think it takes less effort to use the Euroflex than it does to fill up the bucket with soapy water. I will continue to use the Euroflex. I honestly can not believe how easy and effective this machine was on my wooden floorboards. I would definitely recommend the Euroflex steam mop. I have already offered a trial loan to a number of family members, especially my sister who has a predominantly tiled floor.

Reviewer: Katrina, QLD
Flooring: Hardwood floors and tiles
I didn't have any expectations about size, or how to use as I haven't used a steam mop before. It has a smaller imprint than a mop and bucket, however it does come with little items (e.g. measuring cup, funnel, cleaning pads) that die to having small children I'm likely to not be able to find when I need to use them. I was a bit worried about the instruction recommending to wear shoes when using the steamer. However, when I was using the steamer I didn't feel that the heat was too bad and then continued to use the steamer without shoes. However, I remained very cautious about the heat of the steamer and would only use it once the children had gone to bed.
The set up was easy and the instructions were very easy to understand. I hadn't used a steamer before, so I read the instructions thoroughly before its first use.
As I hadn't used a steam mop before, I didn't know what to expect. At first, I was slightly disappointed as it didn't appear to be cleaning very well but once the mop pad got sufficiently wet it started to clean really well. Despite the floor appearing to be wet it didn't stay wet, like it does when you use a mop and bucket. There were no streaks left on the floor associated with the prolonged drying when you use a mop and bucket on a hard floor.
I felt like the floors were cleaner with the associated heat from the steamer and that the pad can be washed between washes. Allowing a clean device every clean. Unlike a mop that has been sitting around since the last time it was used.
I feel that the Euroflex floor steamer was able to provide a better clean than my mop and bucket. I liked that the constant heat provided a safe, effective clean. Unlike the mop and bucket, where you have to use chemicals and the water cools and even though the floorboards are wet, you still wonder how clean the floor actually is. I feel like the set up time between the two is much the same. One involves filling a bucket the other you just have to sit around and wait for the steamer to heat up. I still use the mop and bucket for 'spot cleaning jobs' during the day and do a thorough clean with the Euroflex floor cleaner at night once the kids are in bed.
Liked the most: How clean the floor is after using the Euroflex steam mop. It was able to get dried Weetbix off the floor without the soaking it requires with a mop and bucket.
Liked the least: The safely risk of using around small children.
Verdict: I love that I am providing a clean safe environment for my family and there is no more satisfying feeling than sitting down at night to clean, shiny floors. I's recommend the Euroflex steam cleaner. You can't put a price on your family's health.
Reviewer: Jolene, VIC
Flooring: Tiles
The Euroflex steam cleaner is an attractive option for me as it offers the ability to clean my floors without having to use chemicals. I prefer, when possible, to use chemical free or natural cleaning product especially on large areas like flooring as I believe that it is better for the health of my family and pets.
I was quite surprised at how small it was when the parcel arrived, and light too. Before taking it out of the box, I'll admit I did wonder if being small/lightweight it would be of inferior quality, but I was pleasantly surprised when I took it all out and put it together. It's a great little unit, and being light and compact it is really easy to manoeuvre around the floors and easy to store when not in Use.
Assembling the Euroflex steam cleaner took just a few minutes. The instructions were staright-forward and simple to follow. I LOVE that the pads attach via Velcro. There is no stuffing around trying to attach them in the right place or clipping them into place. No bending at all – you just stick the pad into place and off you go!
My kids have a knack of leaving sticky, horrible, unidentified patches of goodness-knows-what on my tiles, particularly in the kitchen and around the dining table, so I was keen to see what the Euroflex could do. Boy did I love that extra steam button on those stubborn patches! Haha! And amazingly, there was no need to scrub and put my back into it like I'd do with my usual mop. It did the job effortlessly. Top marks for a streak-free finish too!
Needless to say, my mop hasn't seen the light of day since the Euroflex steam mop moved in, and is currently holed up in the back of my laundry cupboard. I don't have to worry about sloshing a bucket around with me, and the tiles look like they did when the house was newly built!
It took slightly longer than normal to clean the floors with the Euroflex cleaner as I had to keep refilling the water when it was empty, BUT it was worth it not to have a sore back from all the scrubbing I do with the mop. I also didn't have to worry about anyone slipping over on wet floors as the floor dried super-quick.
Liked the most: The velcro backed cleaning pads are so easy to attach! And I love that it is so easy to manoeuvre – no scrubbing or physical exertion required even on tough stains.
Liked the least: Having to refill the 200ml container multiple times to put 600ml of water into the water reservoir – but in the scheme of things this is a minor quibble and I have resorted to using my own larger measuring jug.
Verdict: Streak-free and quick dry! My tiles look like new.
The Euroflex has made keeping my floors clean a much more enjoyable experience. Unlike the old mop and bucket, I actually look forward to getting the Euroflex Monster out and taking it for a ride. Lol!
I will continue to use the Euroflex steam mop. It makes light work of a big job and I don't get a sore back from using it, which I did from using the mop. I would definitely recommend. I think it represents fantastic value for money and does an outstanding job.
Exclusive Offer
Our friends at Harvey Norman are offering an exclusive offer just for Mums Lounge readers!!! Click here to find out what your BONUS GIFT could be and how to claim it!
Win a Euroflex Monster Floor Steamer valued at $329
Experiencing an acute case of steam-mop envy? Well, today might just be your lucky day! We have one Euroflex Monster Steam Mop up for grabs!
For your chance to win simply complete the entry form below. Good luck!