Mum Humiliated and Shamed After Not Chipping in for Preschool Teacher's Present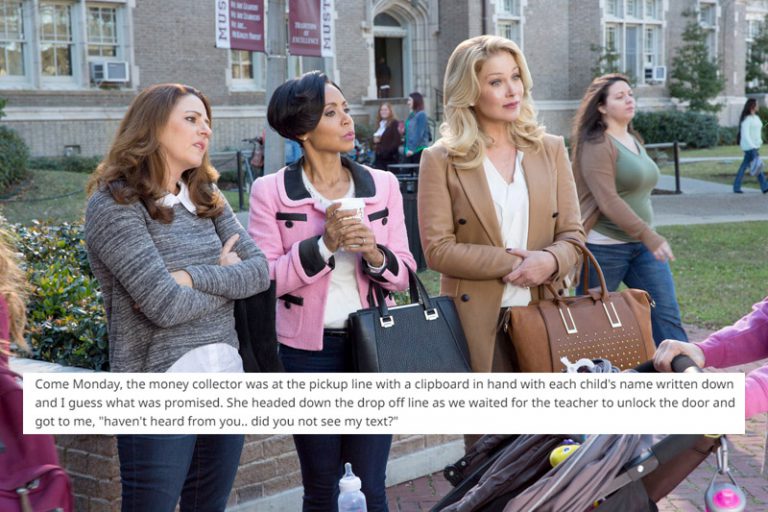 Mum Humiliated and Shamed After Not Chipping in for Preschool Teacher's Present
Mum shaming seems to be a regular occurrence lately. It may be about the contents of a child's lunchbox, what sort of goody bags are on offer at a birthday party or breastfeeding in public. Even Pink has been mum-shamed for simply drinking coffee!
This one takes the cake though. We don't think we've seen a crueller, more vindictive case of mum-shaming ever.
An anonymous mum took to Reddit's Parenting board recently to share her story of being humiliated after not chipping in for an end of year gift for her daughter's preschool teacher.
She described being shunned by the other parents, who even involved her daughter in their nastiness.
End of the school year gift trap… shamed for a week in the pickup line.
So today was finally the last day of my daughter's preschool.
Out of 22 students in the class, apparently we are the only ones not willing to spend money on an end of the year gift for the teacher. Granted we live in a high-income area but we are not of the high-income variety, but we were made to feel like total cheap bastards and I have to vent it out.
Last Friday the mass text message arrived. "Hi everyone, I'm sure you're all in agreement that we should be presenting Mrs Teacher and Mrs Assistant with a gift for the end of school. I've taken it upon myself to collect money from each parent towards it, I'm figuring to get them Amazon gift cards and figure if each parent gives $20 towards each teacher ($40 total) I can make up the difference to a nice round number and we would be in good shape. I'll collect on Monday, thanks"
I saw this and then saw the many replies rolling in. Ranging from 'sure', to 'I'll give you a full $50', to a few 'I already got a giftcard for them for restaurants/massages, but I'll give you X anyway'. 'I'll see your $40 and raise you $60', 'let me add on some floral arrangements too'.
I really mulled it over. But we are living extremely tight and spending that sudden $40 would mean sacrificing in another area of our own lives. I'm grateful to the teacher and all but she isn't doing volunteer work, she's getting a paycheck at the end of the day. That's more than I spent on gifts for my own husband for Father's Day, I got him $10 worth of special candy! It seemed we were the only holdouts.
Come Monday, the money collector was at the pickup line with a clipboard in hand with each child's name written down and I guess what was promised by each mum in the group text. She headed down the drop off line as we waited for the teacher to unlock the door and got to me, "haven't heard from you.. did you not see my text?"
I replied "yes I saw it, but we are handling our own 'thank you' privately". Cue the blank stare. "Other people are doing their own thing too but still contributing to this group gift."
I replied, "understood, but I'm fine with just doing our own thing, sorry". "Well you won't get to sign the group card then." Sniff, huff, down the line to the next sucker who has her $50 out in the breeze already, saying "I didn't have anything smaller so just take the extra."
So for the next couple days, the snubbing is obvious and palpable. Suddenly we no longer are included in the after school playground text which came every single good weather day beforehand so the kids could get together and play. My child was no longer being told hello by the adults in the morning. Backs are turned to me when normally we would small talk before the doors opened and the energy is just clear disdain.
And then their 'gift presentation' took place on Thursday, though school wasn't over until Friday and it couldn't help but feel… intentionally rotten. Captain Money Mum there made sure she was at the door first and as soon as it opened said, "MOST of the kids have put together a gift for you, so if we could just have a moment and those children be pulled aside, you can just release the other ones not on this list…"
Cue my daughter being the sole child to be shuttled out the door, as two of the other mums move forward grinning with floral baskets the size of car seats and captain mum pulls cards out of her bag. Thankfully my child was unaware of the weirdness of it all and we just went on our way.
So today was the last day. I had my daughter do what I felt was appropriate, make 'thank you, happy summer' cards herself and pick bouquets from our own garden. She carried them up to the door and her teacher seemed delighted and not at all put out that it was not $400+ to Amazon. I didn't feel the need to explain myself to the mum squad, and simply said nothing to them and silently left and enjoyed deleting and blocking all of the numbers from the text groups.
Thank god next year my daughter will be going to a public school that is more on par with our financial level. But all said, I'm glad I didn't fall sucker for the pressure. $40 or more to these ladies is obviously not even a thought, but for us who budget right down to the last roll of toilet paper, it would've meant no recreation money for my daughter's first month of summer vacation in order to keep up with the Joneses. Just felt the need to share because it's been racing through my mind all day, I had to get this out.
What the everloving hell. What sort of garbage human being would you have to be to treat a mum and her young daughter like that? This is not okay, and it doesn't matter how you frame it, it will never be okay.
Other parents were quick to respond to the mum's post, reassuring her that the behaviour of Captain Money Mum and co was reprehensible and completely unacceptable, offering advice on what she could do from here.
"I would be livid and I really think you should talk to the school administrators about what happened. I was given a very specific handbook at the beginning of the year on how to ask, what I should expect, etc. it was made very clear by the administration that donating anything from food to money to time was totally optional and no pressure should ever be applied to anyone in any capacity," wrote one mum.
"I'm betting the school administrators at your daughter's school would feel the same and be equally upset. Maybe bringing it up will be the push they need to set up guidelines for gifts so this doesn't happen to someone else."
"Kudos for standing your ground and not allowing to be forced to pay by the vile shitty ladies," another mum responded.
This sort of behaviour is entirely beyond acceptable, and it's horrible to think that so many mums felt it was fine to shun a family for not chipping in. And not one of them stood up for the other mum.
Absolutely disgraceful. We should be supporting each other, not tearing each other down.
How would you have reacted if you were in this situation? Would you step in if a group of mums were shunning and shaming another?
Source: Bad Moms, Reddit and Giphy
*Edited slightly for clarity