Mum Mortified After Paying $8.90 For A Cup Of Coffee In Sydney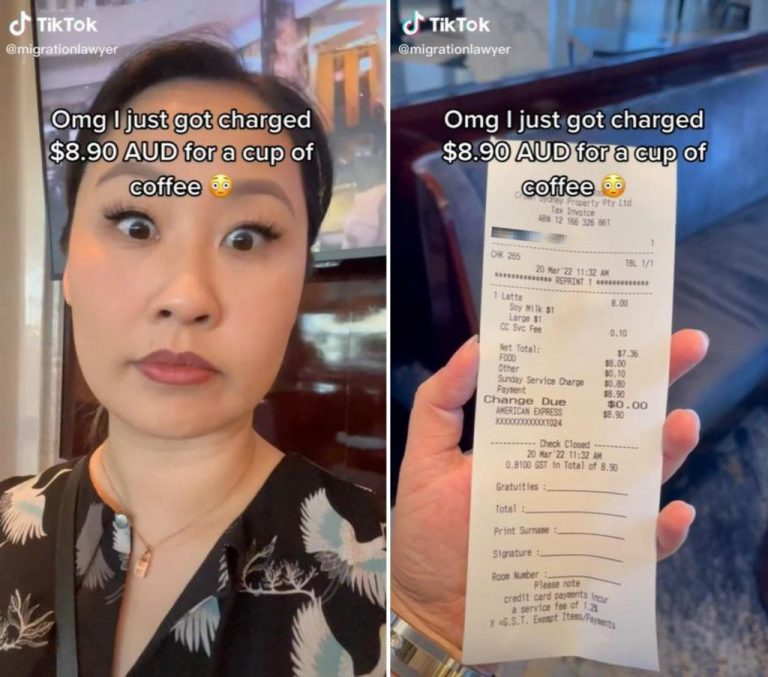 Mum Mortified After Paying $8.90 For A Cup Of Coffee In Sydney
Living expenses have certainly gone up in recent times but does that justify cafes charging nearly $10.00 for a cup of coffee? One mum recently paid extra for soy milk, extra for a large cup plus a Sunday surcharge. She wants to know if she has a right to be annoyed.
Traci Chen, a lawyer from Melbourne, ordered a soy latte for $8.90 at a hotel bar inside Crown Tower in Barangaroo when she was visiting Sydney over the weekend.
Traci was stunned to see she was charged $1 extra for soy milk, $1 to upgrade to a large cup and 80 cents for a "Sunday service charge". "Oh my god I just got charged $8.90 for a cup of coffee," she said in her TikTok video.

Naturally people had opinions about the price of Traci's coffee and took to the comments section to voice them. Most of the commenters said they would "never pay that much for coffee". However, Traci responded, saying: "It was too late, I already ordered."
"Omg that's preposterous, what's going on?" one wrote.
Another said: "I will not buy a cup of coffee if it costs more than $5."
 "That's outrageous!"
Some however said the price was fair enough considering the extras she chose.
"Fair enough, soy milk is more expensive," said one. While one person noted,
"That's a big size coffee!!"

Experts are predicting Australian coffee prices are set to soar over the coming years due to global production and supply chains. In fact this could see coffee costing an average of $7.00 by the end of the year.
Coffee prices were $3.50 a few years ago and now we're paying $5.50 to $6 depending where you go. And while prices may go up, coffee is one thing not many of us will be willing to give up.
How much is the most you have paid or would be willing to pay for a cup of coffee?
Images: Tiktok