This Mum Thought She Found Her Daughter's Sex Toy in the Dishwasher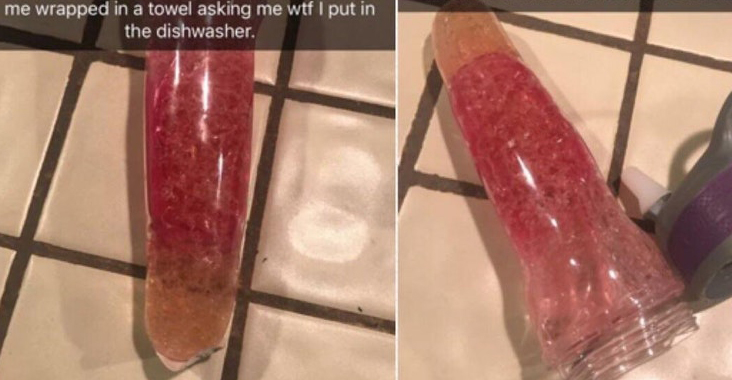 This Mum Thought She Found Her Daughter's Sex Toy in the Dishwasher
An unsuspecting mum emptying the family dishwasher got the shock of her life when she stumbled across a rather phallic-looking object.
Thinking it was her daughter's dildo, she carefully wrapped the plastic penis-shaped implement in a towel and returned it to her, no doubt internally questioning her child's choice of sex toys. Hasn't she heard of the womanizer? Or the mains-powered Hitachi? Oh well, any port in a storm, right?
But alas, mum was wrong, as her daughter hilariously explains.
"So mom finds this in the dishwasher, gives it to me wrapped in a towel asking WTF I put in the dishwasher."
"It was a cup. It shrank. She went on talking about how uncomfortable she felt all day."
OMG. This is the funniest shit we've seen all week.
The poster informed her mother that while it might look like a sex toy, it was in actual fact a melted water bottle, which she might have guessed if she had seen the lid beside it.
I mean, it certainly looks like a dildo. We can only imagine what was going through her poor mother's head as she tried to figure out what it was, and why her daughter so casually popped it in the dishwasher to clean it.
And in case you were wondering, this apparently happens a lot to this particular brand of drink bottle, with varying results…
Yep, they kinda look like dildos too!
Someone else shared a picture of their shrunken drink bottle and now that we have an idea of the scale of this "dildo" we're laughing even harder.
Dayum girl!
Some items are strictly top rack only.
Source: Reddit/fictionbastard