Mum Uses Play Doh To Show Son How A Caesarean Section Is Performed!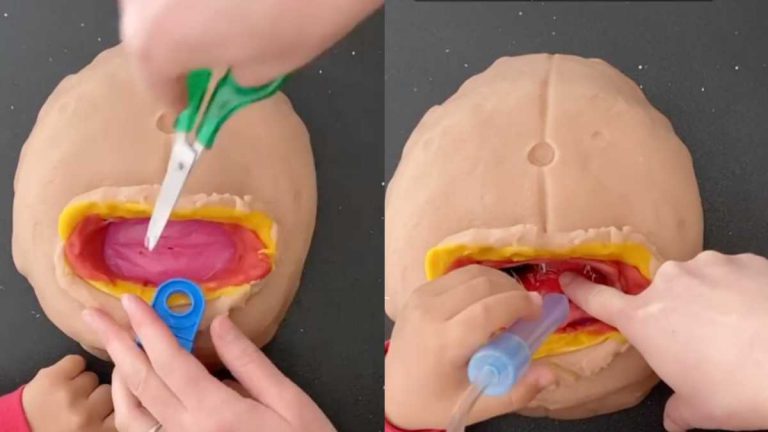 Mum Uses Play Doh To Show Son How A Caesarean Section Is Performed
After a mum discovered her 3 year old son's fascination with watching surgery videos she decided to recreate various operations using Play Doh so the two could 'have a go.'
Speaking to Cafemom, the mum says it all started when her 3 year old was watching a bezoar removal surgery and wanted to know more. So they both googled 'surgery videos' and watched them together.
"I wish I could do a surgery like that," her son exclaimed.
That's all the mum needed to hear and away she went to recreate common surgeries using Play Doh, much to the delight of her toddler.
This week's offering was a Play-Doh recreation of a cesarean delivery and it is amazing!
View this post on Instagram
The talented mum now shares her incredible videos on Instagram under the handle The Breakfasteur.
During the cesarean video the mum shows her son where the doctor makes the incision in a mother's abdomen during delivery. The scalpel moves through layers of fat, skin, and muscle, she tells him as he leans forward to get a better look.
Together they dig deeper and deeper. She then shows her son where the uterus is and how the baby is protected inside the amniotic sac.They then tug and pull until the "baby" (aka a Spiderman doll) is born. Then, she uses a clothes peg to clamp down on the umbilical cord so her son can perform the final cut.
How incredible is that?!
Speaking to Cafemom, the mum says she got her Play Doh idea during the pandemic when a conversation with her son sparked something inside her. While having dinner one night she caught her son trying to eat a piece of his napkin.
"You'll get a bezoar," she warned, "and you will need surgery to remove it."
Her son wondered what that was, so she told him it was "a solid mass of indigestible material that accumulates in the stomach and can cause a blockage."
View this post on Instagram
The conversation sparked curiosity in her son so they searched YouTube for videos showing the surgery. While the actual footage seemed 'too gross' to watch, the mum quickly thought to replicate it using Play Doh to make it more kid friendly.
"I rolled out some homemade Play-Doh and set up a simple surgery simulation," she told CafeMom. "He loved it; we reset and repeated it six more times — I could see his confidence grow each time and we reviewed simple anatomy around the case."
View this post on Instagram
It turns out, her videos are loved by adults just as much as kids. Since their first surgery (which showed a cholecystectomy) the mum has gone on to recreate dozens of procedures — from a thyroidectomy to a carotid endarterectomy. 
Wow! Just wow!
Images: Instagram