Neighbours Send Mum of Autistic Daughter a Hateful Letter Demanding They Move or Else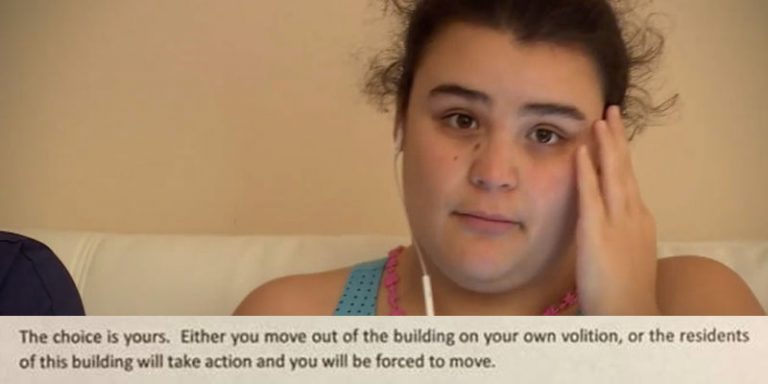 Neighbours Send Mum of Autistic Daughter a Hateful Letter Demanding They Move or Else
A mum of a teen girl with autism has received a heartless, hateful letter from an anonymous neighbour claiming to speak for all 300 residents of their apartment complex telling her to move out or face legal action.
The discriminatory letter, sent by "The Plaza of Bal Harbour Residents", told the mother that her daughter was "compromising their quality of life" and that they would not stand for it any longer.
The mother, Leah Solomon, posted the letter to a private Facebook group for parents who attend her daughter's school. One of those parents, Monica Calderin, was so outraged that she requested permission from the mum to post the letter publicly.
Absolutely unacceptable!
Solomon explained that her 16-year-old daughter Bathsheva has severe autism and has the intelligence level of a 4-year-old.
"Whoever wrote this letter is heartless, is not a human being," Solomon told NBC Miami. "It's an animal. Because my daughter, she is special. She's an angel. She doesn't understand hate or lying or pretending – she's pure."
Management at the apartment complex has said that they also received a copy of the letter. The condo's manager said the letter is disturbing, adding that it did not come from the office or the condo board.
It is not understood whether the letter was written by a group of residents or just one lone selfish, heartless individual severely lacking in compassion and empathy. It is hard to imagine that all 300 residents of the complex are in total agreement on this matter.
Either way, the thought that someone sees fit to evict a family with a daughter with special needs because they find them distasteful or inconvenient makes me see red. To then suggest that her child should be institutionalised so as not to "infringe upon the quality of life of others" that have "worked hard their whole lives" is just unconscionable.
The family feels unwelcome and torn, adding that their rights may possibly have been violated, they said.
A member of the condo board told NBC that they've identified the person who wrote it and are determining what action to take.
"This is the worst discrimination I've ever seen in my life," the board member said. "This is horrendous."
It certainly is.
Source: Facebook/Monica Calderin and Telemundo 51