New Mum Sues Hospital After Enduring Horrific C-Section Without Anaesthesia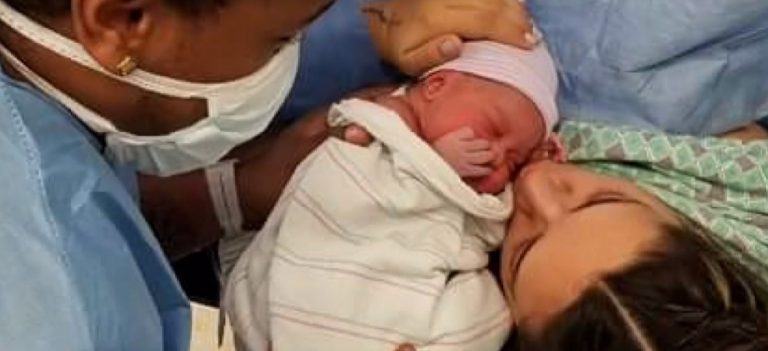 New Mum Sues Hospital After Enduring Horrific C-Section Without Anaesthesia
That headline is enough to make you wince, isn't it? We've all heard people's birth horror stories, but giving birth via C-section without anaesthesia would have to be the most horrific one out there.
Delfina Mota needed an emergency caesarean section at a Los Angeles hospital last November but an anaesthesiologist could not be found despite multiple desperate calls. So the surgery was done without any pain relief, according to the woman, her fiance and their lawsuit.
Paul Iheanachor said he was in the hallway outside the operating room where hospital staff had taken his fiancee, Delfina, when he knew something was wrong.
"I heard the screams, the horrific screams," the 35-year-old dad said. "That's when I realised they were cutting her without anaesthesia."
Delfina has described the experience as "something like out of a horror movie", and we can't even begin to imagine what that agony must have been like for her.
According to Buzzfeed, Dr Sandra Lopez at Tri-City Medical Center made the call for an emergency C-section on November 16, 2016, the day after the 25-year-old mum and her fiancé had come in to the hospital hoping for Delfina to be induced. She was about 41 weeks along in her pregnancy and spent the night in the hospital waiting for her baby to come.
She said that about 5:21am, things took a turn for the worse when Delfina's blood pressure began to drop and Dr Lopez couldn't find a heartbeat for the baby. The doctor reportedly decided to call for an emergency C-section to save the baby's life.
About three minutes after Lopez made the decision to perform the procedure, she paged anaesthesiologist Dr David Seif, who did not respond to the "multiple" pages sent for him across the hospital.
About nine minutes later, a second round of pages were reportedly sent, but Seif still did not respond.
Buzzfeed reported that while pages were being sent for the doctor, Lopez told nurses in the operating room, "strap her down." The terrified mum-to-be's arms and legs were then strapped to the table and, with no sign of Seif in sight, Lopez began to make her incision into Delfina's uterus.
According to Lopez's "Operative Report," she performed the surgery without anaesthesia and separated Delfina's abdominal muscles to reach her uterus.
"Once I felt it, I was just screaming like, 'Stop. I can feel it. I can feel it.' And after that, I'm pretty sure I passed out from the pain," Delfina explained. "You can't imagine. I would rather have delivered Cali vaginally, with no medicine, than being cut with a knife."
Paul recalled how terrible it was to be helpless and unable to comfort his fiancee. "If somebody put a knife in your stomach and cut you open, and had their hands on your insides, and ripped your baby out, you know. I just tried to put myself in her shoes," he said. "Just tried to wrap my mind around how it would feel to basically be gutted like a fish."
"It's probably going to stay with me for the rest of my life," Delfina added.
The couple are now suing Tri-City Medical Center, Lopez, and Seif for malpractice and are seeking $5.75 million in damages. Their baby, Cali, has been described by her father as "perfect".
We wish this beautiful young family all the very best in their ongoing recovery from this ordeal.
Source: NBC