Three Batches Of Children's Panadol 5-12 Years Has Been Recalled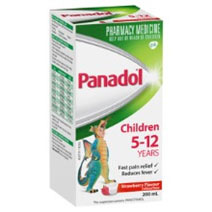 Parents are being urged to check the batch numbers of all Panadol bottles they may have at home following a recall from the TGA and GlaxoSmith Kline.
Up to three batches of Children's Panadol 5-12 years suspension in the 200ml bottles are at risk.
The Department of Health issued this statement today:
It has been identified that an ingredient used in the manufacture of these medicines may have been contaminated with small particles that could contain trace minerals and inert fibres. The quantity of these particles would be small and they may not be visible in the product. If this occurs, there is a very low risk of allergic reaction and there is also potential for the medicine to be less effective over time.
The affected batch numbers are:
136418 (strawberry flavour)
136444 (strawberry flavour)
136443 (orange flavour)
The expiry date for each of the recalled products is February 2018.
If you happen to have one of these bottles at home do not use it.
Return it to the place of purchase for a refund.
If you have any questions or concerns about this issue, speak to your health professional, or call GlaxoSmithKline Consumer Healthcare Australia on 1800 028 533.