These Parents Staged a Hilarious Newborn Photoshoot With Their 21 Year Old Son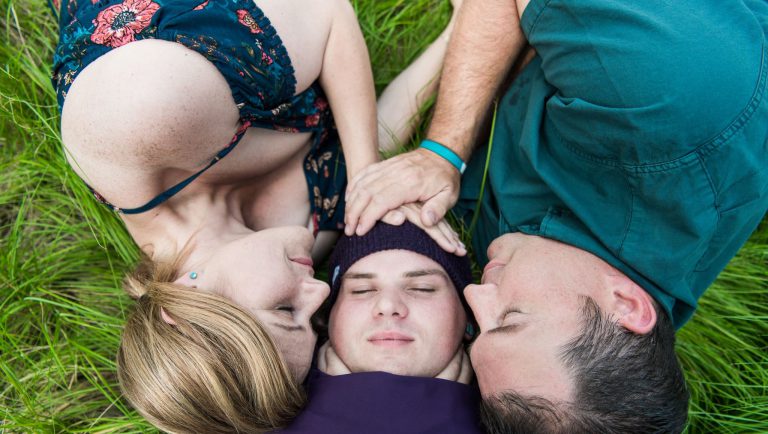 These Parents Staged a Hilarious Newborn Photoshoot With Their 21 Year Old Son
This family's newborn photoshoot is going viral for a very good reason.
Apart from being hilarious and a totally fun thing to do with your adult children, this family decided to stage a newborn photoshoot because they never got the chance to do one together when their son was born.
Former teen parents Rebecca Hayes and David Ward never took newborn photos with their son, Clayton, when he was a baby. The couple dated for 18 months in high school but split before Clayton was born. They both went on to get married and have more children with other people but remained friends for the sake of their son.
But tragedy struck in 2013 when Rebecca's husband passed away. David helped her get through the heartache, offering sympathy to the mother of his eldest son. Soon after, Rebecca helped David get through his own heartbreak, as his wife was diagnosed with a rare cancer in 2015 and passed away last year. 
In their grief, the couple supported each other and their friendship turned into romance again. 
That's when they had the idea to create something they never had when their son was born. They contacted Rebecca's friend, photographer Duffi Crowson, who has known Rebecca since they were 5 years old.
"I still remember her telling me (she was pregnant) during history class, and I accused her of lying/joking, and didn't believe her until she showed me her ultrasound," Crowson writes.
Since the couple were so young when they had Clayton, they never took newborn photographs of him together. That's when Duffi stepped in and helped them achieve their goal … 21 years later.
The results are hilarious, we have to say.
Rebecca said that she came up with the idea when the family were discussing the surprising way their lives had turned full circle.
"I thought they'd laugh it off, but both of them just jumped at it (which is saying something, since they are both pretty reserved). We all agreed that it absolutely had to happen," she says.
As beautiful as it is, this love story is bittersweet for both parents. Rebecca remarks that while they are tremendously happy to be together, both she and David loved their late spouses with their whole hearts.
"Your person is never replaced; you always love the one you lost. Just like the love when you have a second child, your capacity to love just grows. Especially when one loses a spouse, there are no words to adequately describe the hell of losing your partner. So, we widows/widowers deserve to find happiness," she writes.
What an awesome family! We wish them every happiness for their future together.
Source: Facebook/Chaotic Perfection Photography