People Are Comparing Their Side of the Bed With Their Partner's After This Hilarious Contrast Went Viral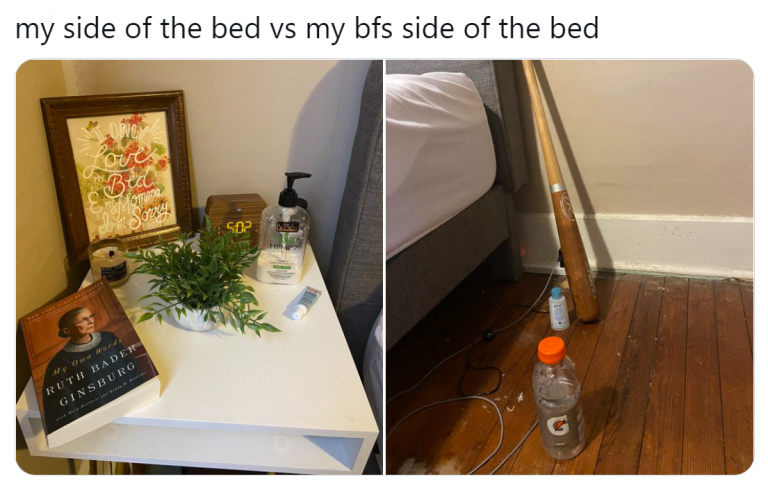 People Are Comparing Their Side of the Bed With Their Partner's After This Hilarious Contrast Went Viral
Have you ever noticed the difference between your bedside table and your partner's bedside table? Perhaps yours features a book, a nice candle, a clock, and some hand cream. Maybe a pot plant and some lip balm. A nicely framed picture. You know, normal stuff.
But what do the men in our lives keep on their bedside table?
The comparisons between the two came into focus recently as people shared images of the contrasts on social media.
It all started when a woman called Hanny Styles over on Twitter shared a picture of what her side of the bed looks like compared to her boyfriend's side of the bed.
my side of the bed vs my bfs side of the bed pic.twitter.com/dopdoVuPw0

— hanny styles (@hannystyles69) January 31, 2021
Hanny's side looks fairly normal in a super stylish kind of way. A lovely cosy area to wind down at the end of a long day.
Her boyfriend's side of the bed, however, contains a baseball bat, an empty bottle of Gatorade, and some lube. His phone charger cable just sits where it fell on the bare floorboards.
Before long, other people shared their own setups, revealing that they were all pretty much the same!
this feels personal.. pic.twitter.com/PETGUlPog0

— ᴷᴬᴹᴵᴸ (@kamil257) February 1, 2021
I can't stop laughing!!!! 😂😂😂😂 pic.twitter.com/W39ii7lKJ7

— Danny_Ashley (@danny_ashley) February 3, 2021
My side vs my bfs side 🤣 pic.twitter.com/rTfs7Sh8pg

— Chloe W🥀 (@chloewintaz) February 2, 2021
wife's side of the bed vs my side pic.twitter.com/o5CTM4eZ35

— Roman Beltran (@romanbeltran_) February 1, 2021
who is this man and why are we all like that pic.twitter.com/J77j4jAgjv

— ken (@KodySKOL) February 1, 2021
my side of the bed vs my bf's set up pic.twitter.com/3ud0mqZ6XM

— babybess (@yoursonbeth) February 2, 2021
It's uncanny!
Referring to the first shared image about her boyfriend's side containing all the essentials, Hanny wrote: "hydrate, fornicate and protect," summing up her boyfriend's priorities perfectly.
Does your bedside setup look just like these? Sound off in the comments!