People Are Making The Best Of Social Distancing by Holding Neighbourhood Happy Hours Each Evening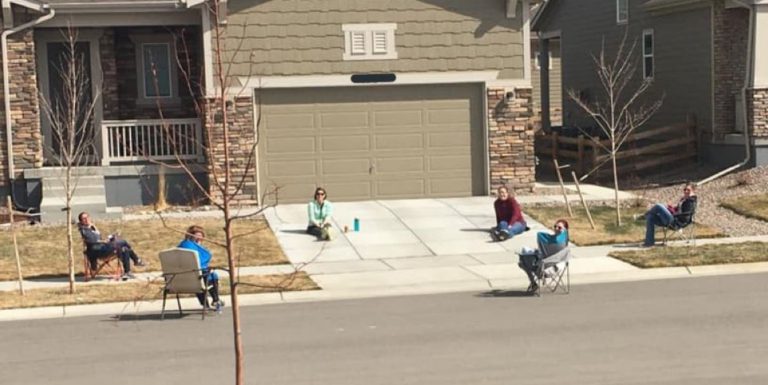 People Are Making The Best Of Social Distancing by Holding Neighbourhood Happy Hours Each Evening
It looks like some good has come of social distancing practices during the Coronavirus pandemic around the world. People have been coming out of their homes of an evening, and, while staying metres away from each other, have been enjoying neighbourhood happy hours with others in their street.
During stressful and isolating times like these, it is still important to maintain communication with those nearby, especially the elderly and those who might not be coping as well. And setting a time each day to step outside your home to catch up with neighbours while still maintaining social distancing is the perfect excuse for a cheeky drink or two!

Our neighborhood started a social distancing happy hour each night. Here's to Night 2! pic.twitter.com/IZGx3O2kRU

— Laura Buchtel (@Laura_Buchtel) March 17, 2020
Social distancing happy hour with my neighbors. Finding fun where we can. pic.twitter.com/kiECnsuckF

— Kristin H Rosengren (@RosenKris) March 17, 2020
Mom sent a picture of how their street is socializing pic.twitter.com/NsDxMyAGXt

— caveheraa (@caveheraa) March 17, 2020
It is easy to see the joy in the small ways that people are finding comfort and a sense of normalcy amid the pandemic. Funny, isn't it, that in times like these new friendships can be made and the good in humankind comes out. Better than squabbling over toilet paper.
Neighborhood social distancing happy hour. pic.twitter.com/xBbgzSRWOS

— TK (@tkeekley) March 17, 2020
We are doing social distancing happy hour. Fresh air is good. Fresh air with wine/whine helps too. pic.twitter.com/evkYeEzhcI

— klg (@Phxwarpedview) March 17, 2020
Some have even started neighbourhood dance parties and distance games.
#SocialDistancing + aerobics = neighborhood dance party! #covid19 #QuarantineLife pic.twitter.com/cUoqhyis2M

— Erin Stewart (@Erin_N_Stewart) March 18, 2020
Meanwhile on my block: Social-distancing neighborhood street dance party. 4 songs, 14 minutes of fun and community – while 6 feet apart. pic.twitter.com/mjhyE2VZ7B

— Piep van Heuven (@00Piep) March 16, 2020
Neighborhood kids in the back–practicing social distancing–playing kickball. Oh to be a kid again. #ShooShooCoronaFlu #CoronavirusOutbreak pic.twitter.com/W3qJOZ7BIn

— Jamie Pearson (@PearsonJamie) March 17, 2020
Even if your neighbourhood has been practising social distancing for years, now might be the time to pop some happy hour invitations in each other's letterboxes and bring out the lawn chairs! Draw chalk boxes on the street, pump up the music and let the kids dance inside their box. What a wonderful sense of community you could create in a time of stress and solitude!
Will you give it a go? It's quarantini time!
Have you signed up for your free 7 day trial of Disney+?
Source: Twitter