School Installs A 'Cry Closet' For Students And People Are Divided!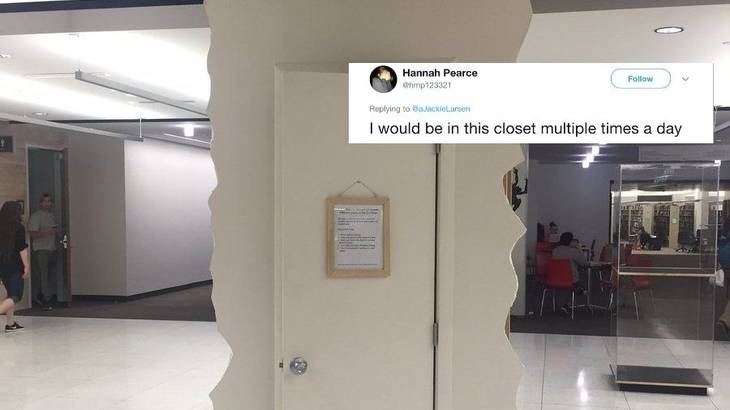 School Installs A 'Cry Closet' For Students And People Are Divided!
A university in America has taken the welfare of it's students very seriously by authorising the installation of a cry closet for them.
The makeshift closet, which was put up at the University of Utah has divided the internet after pictures of the installation were shared by a student.
"So my school installed a cry closet in the library LMFAOOOOOOOOO what is higher education?" the student tweeted, along with a series of pictures of the closet.
The closet is designed to be a safe place for students to come and sit and deal with their emotions in private. Judging by the photos the inside looks like the room of a toddler complete with blanket on the floor and soft toys scattered everywhere.
The closet is meant to be an exploration of human emotions- more specifically, the emotions of tired college kids.
People originally thought the closet was installed by the school body itself but in actual fact it's an art installation by one of the students.
The closet is the work of Nemo Miller, a student in the fine arts program and is titled Safe Place for Stressed Out Students Otherwise Known as The Cry Closet.
"I am interested in humanity and the inherent complexities of the human condition. In my work, I reflect on my experiences and explore what it means to be human," Miller explained. "One aspect of humanity that I am currently exploring is connections and missed connections through communication. It's been interesting to watch the response to this piece about human emotions, and I'm proud to see the power of art in action."
And while the closet is just an art installation it is in fact designed to be used. School spokesperson Jana Cunningham said that students are actually encouraged to use it. "You can cry, scream, look your phone and decompress, and hopefully you come out feeling a little better in this crazy week of finals," she said. "The closet will be up until the end of finals this week."
As expected, many took to twitter to express their dismay at the state of the human race. Comments came hard and fast poking fun at the generation of kids known as 'snowflakes' due to their fragile nature. Many questioned what has happened to our kids that they now need a separate cry room to express their emotions.
(I'll be honest, I could pretty much use one now but the laundry will have to suffice!)
What do you think of installing something like this at your own kid's school? Or even in the workplace? Is it something beneficial to us or it just another way society is pandering to the increasingly fragile nature of our kids?
Images: Twitter