This Child Bought the World's Creepiest Doll That Looks like Something out of a Horror Movie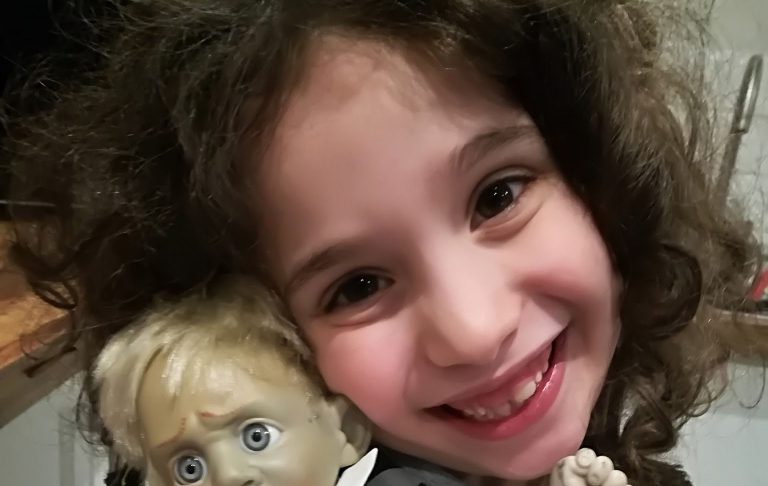 This Child Bought the World's Creepiest Doll That Looks like Something out of a Horror Movie
Op shops are full of practical homewares, second-hand clothing, dusty antiques and other whimsical discoveries just waiting to be found. You never know what you might end up with!
That's just what happened to mum Amanda Mancino-Williams when she gave her daughter £3 ($5.50 AUD) pocket money and told her to pick something at her local op shop, not realising the level of horror that was about to entire their once-peaceful lives.
This is what Amanda's daughter chose.
Just look at how much this child loves this horrifying dolly, grasping it firmly to her chest and holding it close to her cheek. I would have swatted it across the room with a broom. but each to their own.
"My 7yo had £3 pocket money and decided that, more than anything in the world, she wanted to buy this secondhand doll," Amanda explains.
"This sick, green doll. This nightmare doll, which is now affectionately named "Baby Ben." If I am dead by morning, you know why."
I'm sure Baby Ben isn't looking for any trouble. He looks like he is running late for his post-mortem examination following a bout of cholera.
After introducing her daughter's beloved nightmare-inducing dolly to her Twitter followers, a creepy scenario was considered.
Before too long, other people came out in sympathy, sharing images of other creepy dolls. Not that these examples of hellish dollies would make anyone sleep better at night…
Available at a Scottish post office near you, this doll has seen terrible things. pic.twitter.com/dQLVhNaWa8

— Carolyn Green (@LadyCarolynemma) April 26, 2018
No! Even worse than this gem donated to our children's charity 🙂 pic.twitter.com/AnZA8UyGvA

— Sue Beattie (@SusieBeeTee) April 26, 2018
I've got his twin brother at mine… I am 100% happy to post him out to you to get them back together. pic.twitter.com/5A6HNTO2ZP

— Martin Shaw (@BhunaBhuna) April 25, 2018
Occasionally we allow him out. pic.twitter.com/Y7ulMCduXw

— Catherine (@8699) April 27, 2018
May I present the horrible sibling of Ben, "Aaaah! Baby" that my kid bought for $.25 at a yard sale. pic.twitter.com/v8NDydHnTi

— RandiMeredith (@randimeredith) April 26, 2018
I think I have the brother! He turned up unannounced to the CHILDREN'S charity in Sydney where I work. I couldn't bring myself to throw him away. pic.twitter.com/t5lBNzSG8Q

— Catherine (@8699) April 27, 2018
Oh! Meet Phillip. pic.twitter.com/m3tijZ076r

— Paul Warren (@paulRwarren) April 26, 2018
Well, that's horrifying.
Do you have a creepy doll of your own? Show us in the comments!
Source: Twitter/A Mancino-Williams