Stepmother's "Heartbreaking" Photoshop Request Leaves People Angry and Upset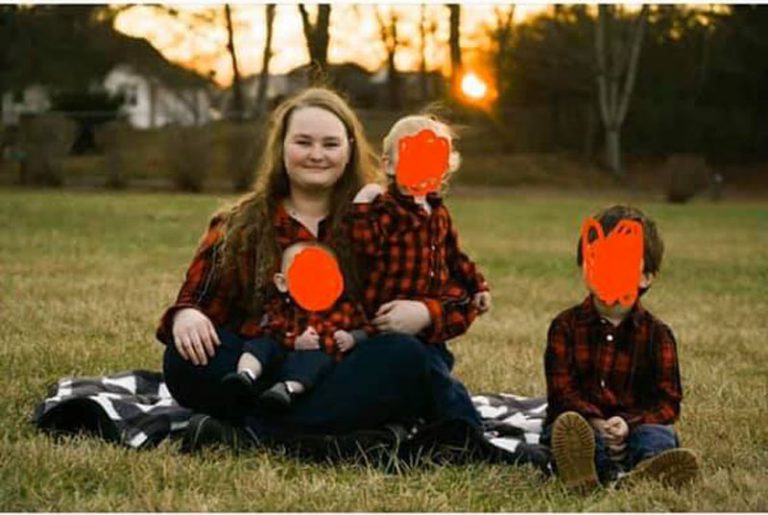 Stepmother's "Heartbreaking" Photoshop Request Leaves People Angry and Upset
A woman has sparked outrage across several social media platforms with her request to photoshop her stepson out of a family photoshoot.
Originally posting in what's believed to be a photo editing group, the woman shared a series of family photos of her husband, two biological children and one stepson. The children's faces had been blurred out.
"Is there any way ya'll could remove the kid to the right in these pictures?" the woman captioned the photos.
"He's my stepson and I love these pictures of us together but I also didn't get any good ones without him.
"Also remove him from the full family pictures please. Thanks in advance."
A screenshot of the post was shared to sub-Reddit 'I am a total piece of shit' where people share the very worst type of individuals they happen across. This stepmother seemed to fit right in.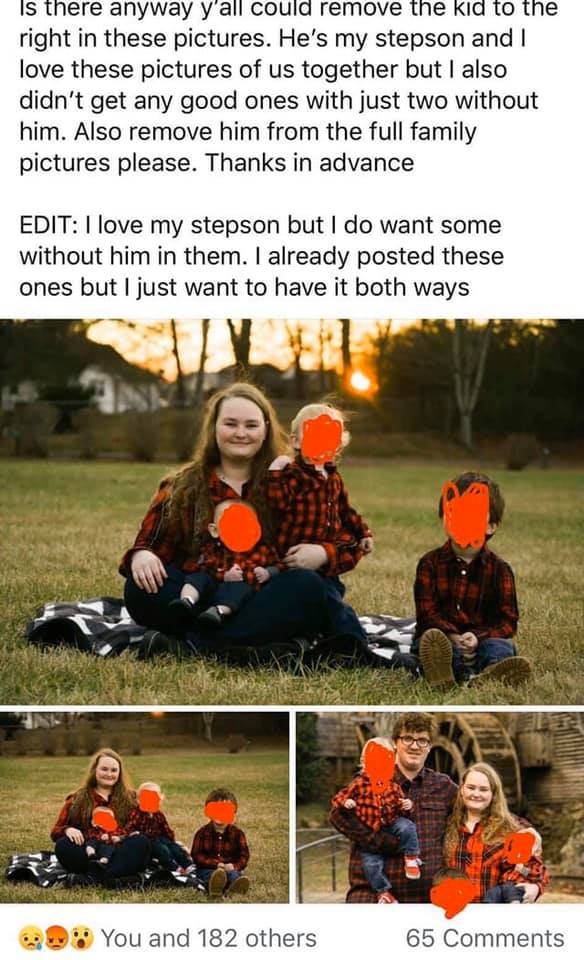 As if it wasn't bad enough that her stepchild was sitting off to the side while the mother was holding her biological children in her arms, the request to remove him completely angered many. Commenters shared their own heartbreaking stories of being left out of family events by their step-parents.
"This happened to me – I'm 30 now. The family were discussing the upcoming family photos, and my sister suggested we move the date so I could be involved too. My step-mum said it was 'for family only', and said it was best to leave it as it was," wrote an anonymous Redditor.
"One time my parents and siblings all went to a cottage weekend with all my cousins and aunts/uncles. They forgot to invite me. Then they insisted it was me who said no to going. When they realised that never happened, they got mad at me for being hurt about being left out and said I was just trying to start drama," wrote another.
Others revealed their shock and sadness for the little boy in the woman's photos.
"This genuinely made me sad. Imagine how that child felt. I bet he noticed he wasn't included like the other two," wrote one person.
"Seriously, this is heartbreaking," wrote another. "I don't want her near children in general if she treats a child like this."
We can only hope that the 65 comments beneath her Facebook request shocked the stepmother into realising how cruel and damaging her thoughts and actions are towards her stepson.
Source: Reddit/I am a total piece of shit