This Teacher Played the Funniest April Fool's Day Trick on His Students!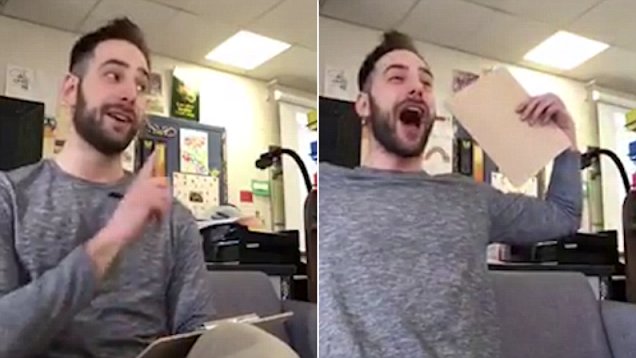 This Teacher Played the Funniest April Fool's Day Trick on His Students!
Kids are easy to trick. We start off by pretending to steal their noses as toddlers and doing that hilariously stupid dismembered thumb thing. Then we move on to telling them that eating their crusts will give them curly hair and that if they're good we'll buy them ice cream.
A teacher in the US has pulled off the best April Fool's Day prank on the kids in his class by giving them a hilarious new set of spelling words, reading them out to them with a straight face.
The video has become a hit, with over five million views since it was uploaded to Facebook by fourth grade teacher Joe Dombrowski yesterday.
"Alright, going through the list with the spelling — you're checking your own list. Here we go!", the Michigan elementary school teacher says. "The first word is blorskee – I lost my blorskee at a carnival. B L O R S K E E"
You can hear the surprise as some of the children realise that this isn't actually a word. But Mr Dee carries on with his spelling list as per usual.
At one point, he says the word "speeku" and says it's spelt "S P E E K U Z S L M N," claiming most of the letters are silent.
"The last word is 'Rol-aska-tox,'" Dombrowski said. "If you didn't get the hyphens, I'm sorry, you got that word wrong."
As he works his way down his list of ludicrous spelling words, the children are heard to become more and more confused but dutifully note each word down as directed by their awesome teacher. His final spelling word has his class shouting and laughing along with him as he announces that it has been an early April Fools Day joke.
"Congratulations, turn in your tests, this will be on your report card," he says with his by-now-perfected straight face.
Mr Dee's entire list of fake spelling words (along with his example sentences) is as follows:
BLORSKEE: "I lost my blorskee at the carnival."
TANGATEEN: "I eat my spaghetti with a tangateen."
SPEEKUZSLMN: "Look there's a speekuzslmn!"
WAZAMATA: "Student say they're sick, I say wazamata with you?"
SLIPERT: "Be careful when you're sleeping there might be a slipert in your house."
CHCHCH: "The horse was angry so I said chchch."
ROL-ASKA-TOX: "Rol-aska-tox was surprised when jinx took the crown."
SPEENUCH: "My favourite food is speenuch and artichoke dip."
SHABOLASKP: "Be careful you do not catch shabolaskp."
GÜRRR: "My friend told me a secret and I said GÜRRR." Well played, Mr Dee, well played.
Source: Facebook and Giphy