The Inspiring Facebook Status That EVERY Woman Needs to Read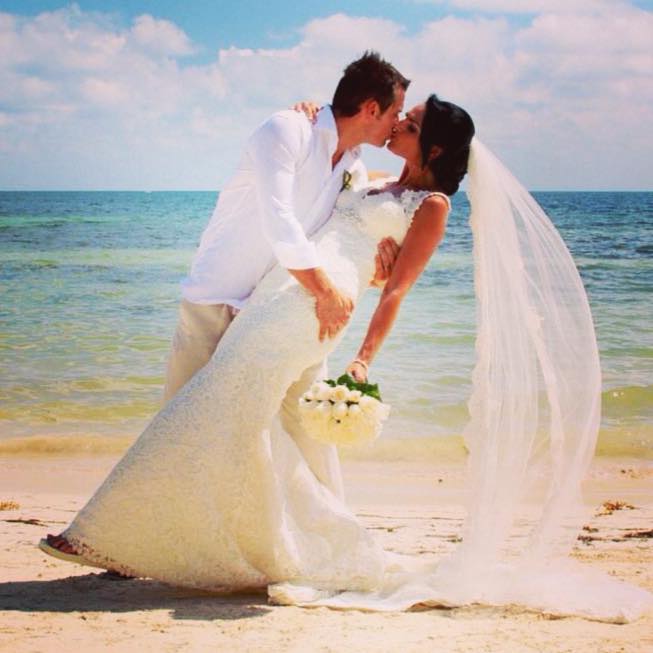 When Swansea woman, and personal trainer, Phyllis Tyrrell shared her unusual and candid breast cancer story on her Facebook page, she never imagined that it would be shared so many times. It's an inspiring message, of courage and hope, and serves as an important reminder to us all .  If you only read and share one thing today, please, make it this….
My Breast Cancer story – this a long read, but its message is so important so please read until the end…
I'm not the type of person to air all of my personal life on social media, however this is something I need to do. I don't want pity, apathy isn't something that I endorse. I want to share my experience, to help as many people as I possibly can. If I can save one life, then that would make this totally worth it.
When I was first diagnosed, I searched the internet for stories of anyone who was going, or had been through, breast cancer – or had just found a lump. However, I didn't find any account like my own so that's why I'm sharing this.
It is imperative to check yourself regularly and, if anything doesn't feel right, see your GP straight away. Only you know your own body! I'm a thirty-eight year old, healthy personal trainer from Swansea, with breast implants – LOL. Now you all know, this was my dirty little secret that I have kept for over fifteen years. Not even my family knew. Anyway I have always been healthy, having the right nutrition and exercising regularly and, basically, doing all the right things to improve my health. I have never smoked and only occasionally drink alcohol. I think this is why it's been hard to understand why it has happened to me being so young, and with no history of it in my family! I remain positive and am ready to face whatever treatment I need as I'm one of the lucky ones; I caught it early had the feeling something wasn't right and eventually acted upon it. As a private person, things like this I find hard, but here goes…:
Just over a year ago, I noticed my left breast had changed shape, with a little bump, and had become very painful on one side. I remember not feeling worried in the beginning telling myself, "OH IT'S JUST MY IMPLANT, maybe it's moved or something." The pain got a lot worse, sometimes keeping me awake at night when I lay on my side. My breast skin felt really hot too and it was always itchy. During that time, I noticed my body felt achy most of the time – and not from training, if you know what I mean. I also lost my energy, especially in my muscles which felt constantly fatigued. This particularly made me feel like something was up as I loved exercise but had nothing in the tank. I immediately, as you do, searched the internet, popping in my symptoms and had then convinced myself that my implant had leaked and that I had silicone poisoning. Total paranoia!!! Anyway, I went to see my GP who referred me to the hospital straight away. However, as time passed, I decided to go back to the plastic surgery company who did the implants initially to take a look. As they were the specialists, I thought they could tell me what was wrong.
After examining me, they advised that I had capsular contraction grade 4, i.e. the worst you can get. They told me the implants had to be removed ASAP. So, in January of this year, I travelled to London and underwent surgery to have a capsulectomy, along with the removal and replacement of my implants. I even asked for my old implants back so I could examine them myself afterwards. Guess what… no leaks; they remained perfectly intact. So, there went my theory of having silicone poisoning. To be honest, I really found the recovery of that really hard. I felt so much pain, which was nothing like the first time around. My right breast felt like nothing had happened to it: no swelling, no pain. The left (the problem one) well, it was torture; to be honest, a totally different story.
Anyway, twelve weeks later, I went back to see my surgeon for my post-op check-up. After all the swelling had gone down, now you could feel a lump on my left breast. Exactly the same as before I had surgery but a lot more prominent. The surgeon said that it was nothing to worry about, "it's probably nothing. Go back and see your GP." Then he went on to ask me, "Would [I] like an uplift?" I couldn't believe my ears. I thought, "Seriously?! You have just told me you felt a lump." I remember calling my mum on the way home and I broke down in tears. I was just completely fed up. I had paid a lot of money to get them done and yet still had a problem. I knew something was wrong all along, I had such a strong gut feeling.
I called my GP straight away and she was absolutely amazing! I was referred within two weeks to the breast clinic. I wasn't nervous at all on that day, I just wanted to know what it was. I was sent me for a mammogram. Not a good experience for me, I cried and cried – it's not because it hurt, lots of women have had this, but my breasts where still sensitive from the op and still hadn't healed 100%, plus, the thought of something clamping them down really scared and upset me. Thank god for my mum and the fantastic nurses who calmed me down.
No lump showed because of the implants apparently! Next step: the ultra sound, and straight away they saw the lump on the screen. I was then given the great news of having a needle biopsy. OMG, I was terrified! I remember going into shock and just shaking – especially my legs; they just couldn't stop. I cried like a baby yet again. Extremely painful, I'm not going to lie, but it needed to be done. I came out in a massive bruise after that. The doctor said I would have to wait my around two weeks for my results and was given an appointment to go back. That was the worst part… WAITING. That night I didn't sleep, my mind was consumed with all the anxiety that had built up until now and couldn't seem to concentrate on anything. I found it hard doing my job in particular, as I have to be happy and motivate all of my clients. Putting my hat "personal trainer" cap on, I could take my mind off everything. Again, deep down, my gut feeling told me that something was wrong.
Two weeks later, I was given the news that it was in fact a cancerous tumour. Everything seemed already confirmed, so I wasn't in shock at that point; I just expected it! I couldn't take any information in to be honest, i.e. cancer grade treatment etc. and to this day I still don't understand it all. I think I'm better off not knowing. Although I knew something was wrong, and I expected what they told me, nothing can ever prepare you for the thought that you might die – while it was only in my mind, there was a hope, but having it confirmed by a medical professional makes it real – a real problem with real, and potentially dire, consequences. Then came the denial! I immediately said to the doctors, "I'm going on holiday mind … I have to go." I think if my mum and dad hadn't have been with me, I would have left that day and ignored everything I was told. Complete denial. It's funny how you go through so many emotions, almost numb to the words. I then had to be referred to a different specialist because of the situation with my implants. "Chemotherapy" and "radiotherapy" were the words my surgeon used. Then I went into complete panic mode! I didn't know what they meant but I knew it was serious.
Despite the idea of the tumour being fatal, all that crossed my mind was, "OMG, I can't lose my boobs or my hair." Totally ridiculous given the circumstances! But is it actually THAT ridiculous? From birth, girls, in particular, are raised with the belief that they're only worth as much as their outer-shell makes them appear. Thin waist, nice boobs, shiny hair… Looking for a silver lining, it's this cancer that has made me realise just what matters in life. It has opened me up, and made more empathic and emotionally intellectual. It's made evaluate myself, my life and what I hold dearest. I remember once seeing a woman that had too gone through a mastectomy in the changing rooms. She stood there, naked, and didn't seem to care about what others thought about her , but her utter lack of consciousness to the thoughts of others really made me envy her courage.
Then the DENIAL came back. It's like having a mixed bag of emotions from one minute to the next. I left that day went to get my hair and my eyebrows done and convinced myself that nothing had happened. After that, it hit me. I had to tell my family, as they all knew I was going for my results. That was the hardest part: telling my husband; daughter; sister and, my second mum, my mother in law. I completely broke down telling them because I could feel their pain and then they started to cry.
I saw my new surgeon two weeks later and she said a lumpectomy was not possible as there would be too much skin to remove and you may not get all the cancer out, so she advised me to have a mastectomy. My heart sank to the floor, tears flooding and I started shaking again, my whole body in shock feeling so so cold. Then it hit me again, this was a big thing. "Why is this happening to me?" I love my boobs, I thought I've always had nice ones!! I'm the kind of person who doesn't have a lot of self-confidence despite what others might think. I'm always extremely conscious of my looks. My first thought being, "OMG, I'm going to look ugly… I will lose my hair, my body won't look the same, I won't be attractive to my husband; I don't want him to see me go through this. I won't be able to leave the house, I will get depression again…" (which I suffered with for many many years, but that's another story).
Coming back to the braveness of that woman in the changing rooms, I remember my nurse mentioning a t-shirt that says, "Yes, my boobs are fake; but my real ones nearly killed me." The experience has really opened my eyes to the superficiality of the ideals of beauty. People, like myself, spend their lives trying to achieve them, and yet they can disappear at the drop of a hat. Thinking back to being young and carefree really makes me think that the older you get, the scarier life gets… so my advice to anyone sharing an experience similar to my own is, don't live in fear. If people laugh at you, make like Taylor Swift and shake it off. Because, at the end of the day, we're all only human and those whom might laugh don't know what's around the corner themselves. So live life while you can live it. Another silver lining: experience builds character, and bad experiences build good character.
All of these things were whizzing around in my head. Tears flooding! Anyway, for me to survive this, I needed to have time to think of my options and digest all the information, so I opted not to have surgery straight away until I got my head around things. That's the only way I could deal with it all. If I had gone in straight away unprepared like I did in January for my previous operation, I wouldn't recover well. I knew I would get depression as it happened then, in that very moment. I would need to be mentally prepared and to do that I needed TIME.
That night I got home and didn't sleep, worrying and crying all night. The next morning, I woke up and thought, "Phyllis, what are you doing? You have to be strong and think positive. You're not going to die, so it's SINK or SWIM!" I would say to myself. I needed to be around for my family: my daughter, my husband and my mum, dad and my sister – whom I love so so dearly. They have been my beacon of support, my rocks. To be honest, I think they have taken it harder than me. Seeing their reactions was the hardest. We had planned a holiday over a year ago to take my daughter away for her 18th and made a decision to go. My surgeon said a few weeks won't make a difference. So, I go away shortly and when I get back I face surgery.
I'm having a bilateral mastectomy with a removal of lymph nodes and I believe this will take away any risk of it returning and going through all this again. I'm still unsure of my treatment plan at the moment, but will find out more after my operation. I know whatever comes my way, I'm ready to deal with it now. Having the time to reflect and not jump into surgery has made me stronger and more positive. It's not a luxury for some however. I'm just one of the lucky ones who caught it early. I'm already changing as a person and am seeing life a lot differently; not taking life for granted that's for sure. For me, my strength is coming from being able to help others so: if this does that, I'm grateful. The nurses and doctors I have met so far on my journey have been in fact truly amazing. So I plan to do as much as I can to help raise awareness against cancer.
We are constantly urged all of the time to either check ourselves or get checked, just somehow ensure you're cancer-free. The same old excuses get used, sometimes it seems that life is too busy to get checked; but, take it from me that life doesn't seem so busy when you're faced with the prospect that if could end. If not for your own sake, then get checked regularly for the sake of your loved ones – this will no doubt have an effect on them too.
Thank you for reading. And please, share this and together let's raise awareness