This Couple Threw a Magical Disney-Themed Wedding and Every Guest Came Dressed as a Character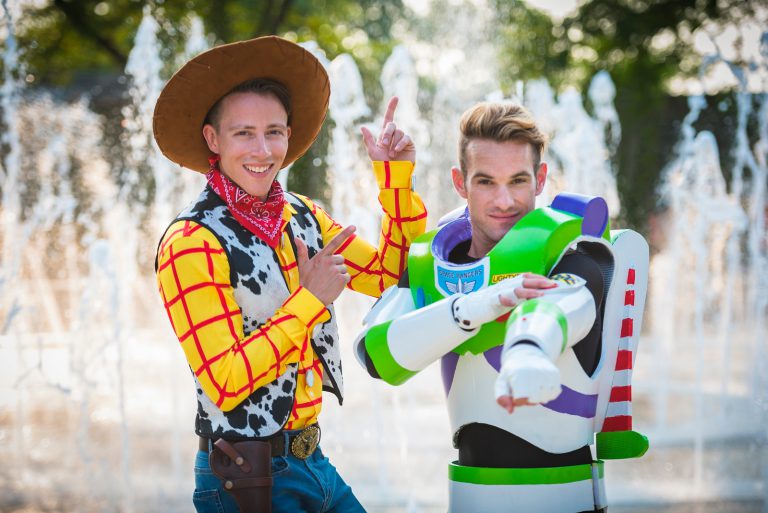 This Couple Threw a Magical Disney-Themed Wedding and Every Guest Came Dressed as a Character
Everyone wants their wedding day to be special — full of love, beautiful decor and something unique that really represents themselves as a couple on their big day.
Newlyweds Garrett and Jason may have just raised the bar for everyone with their gorgeously magical Disney-themed wedding day. They dressed as Toy Story's Buzz and Woody, and every single guest came dressed as a beloved character in keeping with their theme.
No detail was ignored as the couple planned and designed their event. Their first dance as a married couple was to a jazz version of "You've Got a Friend in Me" from Toy Story, and each guest table had different film theme decorations complete with a VHS tape adorned centrepiece.
"Garrett handmade and arranged all of the paper cut flowers," Jason explained. "Each table had elements from the movie, it looked like the movie came to life on the table. There was also at least one light up or glow in the dark element at each table to make it extra magical when the sun set."
"We had both been fans of Disney and Disney parks growing up. Garrett would frequently visit his friends who worked in the park, while I was inspired by the artists and Imagineers who influenced me to pursue a career in graphic design," Jason told PopSugar. "But it wasn't until our first trip together to Disneyland that the love for Disney became more of an obsession."
Photographer Tiffany Brandt captured all the magic of Garrett and Jason's epic day, sharing the couple's special moments on her Facebook page.
What a beautiful event on all accounts.
We congratulate Garrett and Jason on their marriage and wish them all the happiness in the world.
Jason and Garrett's complete photo gallery can be seen at Tiffany Brandt Photography here.
Source: Facebook/Tiffany Brandt Photography