This Fancy Braid Has Gone Viral Because It Looks like Something Very NSFW at First Glance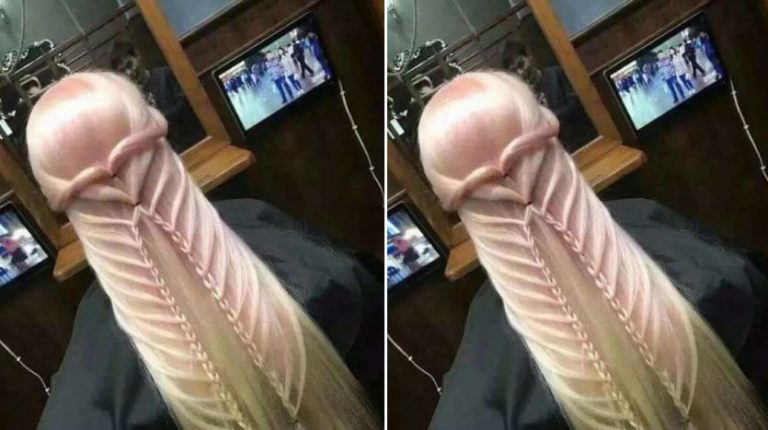 This Fancy Braid Has Gone Viral Because It Looks like Something Very NSFW at First Glance
Look, we can't speak for everyone when we say that this gorgeous fancy braid looks very much like something NSFW at first glance.
But damned if it doesn't like a huge pink penis.
London blogger Stephanie Yeboah spotted the phallic hairstyle — not helped by being a fetching shade of pale pink — and retweeted it, captioning it with words we were all thinking quietly to ourselves.
I must be tired because I thought this was the throbbiest of penises. https://t.co/nX5jH5oVC9

— Stephanie (@StephanieYeboah) October 1, 2019
Some people do see dicks in everything, and that's okay. A little weird, perhaps, but totally fine. However, this is another level.
The intricate hairstyle includes a heart shape and perfect waterfall braiding down each side of the model's head. Not a single hair is out of place in this amazing braid that I know I could never ever dream of accomplishing in a million years.
Needless to say, loads of people agreed that this hairstyle does, in fact, look like a giant erect penis.
I'm well rested and absolutely thought it was a vibrator.

— Chairman Eeeeeoooooow! (@Katchin05) October 2, 2019
Nope .I thought you'd just posted a giant penis too… my eyes were shooketh 😂😂😂😂

— Part of the Rebel Alliance and a Traitor (@HerRoyalDykness) October 1, 2019
Nope I'm high and definitely thought it was a penis

— MichelleNW (@MichelleNW) October 1, 2019
It wasn't until I read your tweet that I realised it wasn't. 😂

— Natasha Anderson (@TashyMcTashason) October 1, 2019
Dickhead or not, is truly lovely just the same.
Source: Twitter/Stephanie Yeboah