This Viral Video of a Father and Son Reunion Will Warm Your Heart (And Might Even Make You Cry!)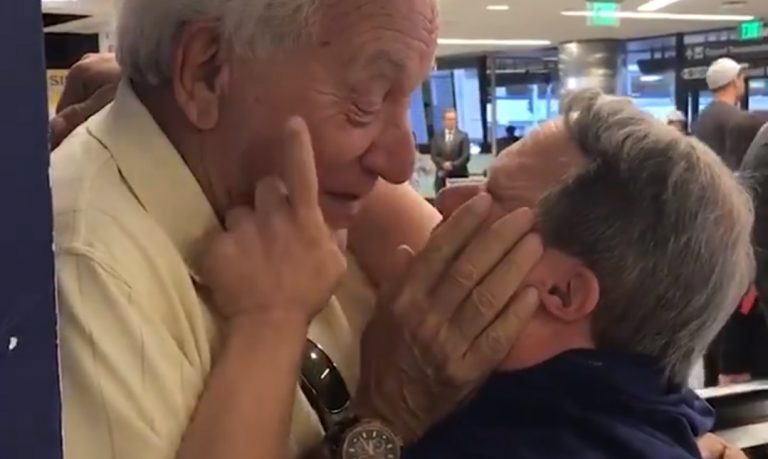 This Viral Video of a Father and Son Reunion Will Warm Your Heart (And Might Even Make You Cry!)
It might seem like we live in a cold-hearted world at times, but then a heartwarming viral video will surface and we all cry like babies as we realise that it's not all bad.
This touching clip of an 88-year-old father reuniting with his 53-year-old son with Down's Syndrome after their first ever week apart has left a big impression when it was shared on social media this week.
The short video, shared by Twitter user TheDad, has clocked up more than 600,000 likes in just a couple of days. See if you can watch it without tearing up.
An 88-year-old dad is reunited with his 53-year-old down syndrome son after spending a week apart for the first time ever. pic.twitter.com/5hvl0FkGKS

— The Dad (@thedad) September 1, 2018
Uggh, why are my eyes so sweaty? At least I'm not the only one, right guys?
— Wyn says #WeCallBS🖖🇺🇸 (@WynGalbraith) September 3, 2018
This is all that matters to me today. I always think the world is shit then I see things like this and I'm reminded that its beautiful if you pay attention. https://t.co/lLYZp1RReI

— tess (@that1mum) September 2, 2018
I'm bawling my eyes out https://t.co/cAQ1rRX4rO

— The_Wookie (@The_Wookie) September 2, 2018
Ok this is today's good cry. This is pure love. So beautiful.

— Sean Maguire (@sean_m_maguire) September 3, 2018
More of this please. https://t.co/M6oPhFek6q

— Patricia Heaton (@PatriciaHeaton) September 3, 2018
Can everyone stop cutting fucking onions pic.twitter.com/7VBsmtmw5c

— Blay ビジョン (@Blay_Vision) September 2, 2018
Just beautiful.
Source: Twitter/The Dad