TV Star and Singer Rochelle Humes Turns Her Baby's Umbilical Cord Into Art!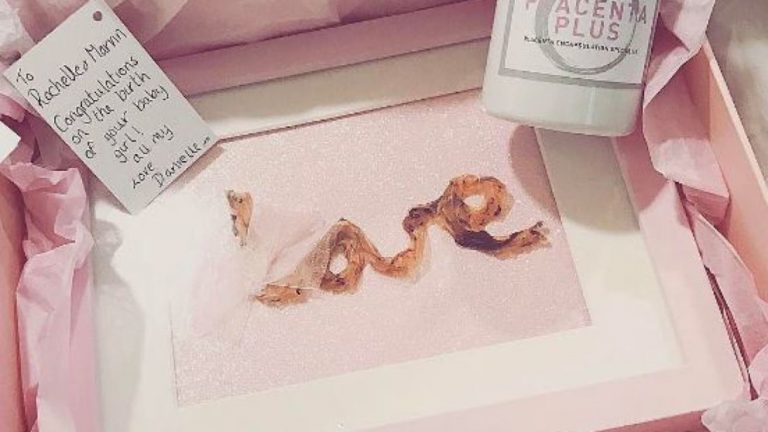 TV Star and Singer Rochelle Humes Turns Her Baby's Umbilical Cord Into Art!
Having a baby is one of those momentous occasions that we want to remember for ever. Some of us take photos others live stream it on Facebook and some decide to turn their baby's dried up umbilical cord into a piece of art.
Which is exactly what British singer and Ninja Warrior UK presenter Rochelle Humes did. The mum of two shocked her fans by posting a picture on her Instagram page of what looks like her baby's cord shaped into the word "love" in a pink frame.
What a 'unique' way for Humes and husband Marvin (who are already parents to 4 year old daughter Alaia-Mai) to remember the birth of their second daughter Valentina Raine Humes who was born on Friday.
The image also contained a pic of placenta pills from gift company Placenta Plus. "After being very curious I took the plunge, so excited to feel the benefits," she wrote.
Placenta pills are exactly what you think they are- pills made from the mother's very own placenta! It's whizzed up and dehydrated and made into ready to swallow capsules! Supporters of placenta pills (such as Kim Kardashian and January Jones) say they aid recovery after childbirth as well as providing other health benefits for mothers.
While fans approved of the placenta pills – which are becoming a popular trend – the umbilical cord artwork didn't impress everyone.
"High five to the tablets but the picture just no… I'm sorry but that picture is horrible! The tablets I understand but I just couldn't have that picture," wrote one follower.
Others however leaped to the mum's defence saying: "Next time I have a baby I'm definitely trying the pills xx not sure about the picture. But that's just my preference xx but heard so many good things about the pills xx sic"
Husband Marvin tenderly wrote on Twitter earlier this week: "Couldn't be a happier or prouder man, what another incredible blessing!
"My beautiful wife gave birth to our 2nd girl Valentina Raine Humes."
Congratulations you guys! She is just beautiful and I bet she can't wait to have that very 'special' artwork hanging right above her cot!
Photos: Instagram