The Unicorn Horn Dildo Has Arrived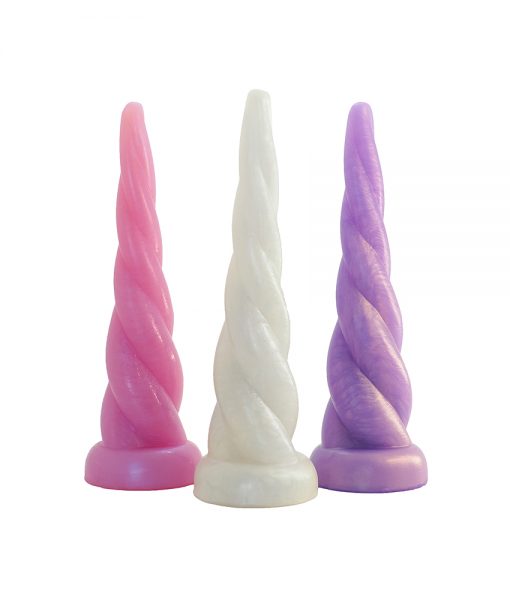 The Unicorn Horn Dildo Has Arrived
Sigh….. Seriously? Unicorn. Horn. Dildos.
I know that most men never grown up. Those toys they had in the sandbox? The trucks, tractors and race cars? They still love all that gear when they're fully grown.
And women? Well most of us had dolls and played dress-ups when we were little and I guess we never really stopped loving that either.
I missed the whole unicorn faze which, one look on Pinterest will tell you it is a serious THANG. There is a plethora of ways you can create a magical, fairyland of unicorn awesomeness with decorations, cakes, swirly ice cream and glittery makeup and nails to please the little girls in your lives. Cause isn't that what the unicorn excitement is for?
So is it just me or is uber, uber, UBER creepy that they are being sold ($50 if you're interested) by Geeky Sex Toys as a way to while away a few spare minutes pleasuring yourself with a pink, purple, or white swirly (looks SUPER uncomfortable to me) 7.5 inch long sex toy that is made to look like a unicorn horn.
Another sigh…it comes with a suction cup. Attach that baby to the floor and ride it while fantastising that your magical prince is soon to be at your side to give you the real deal. Or maybe even put it on the wall!
If the Unicorn Horn doesn't do it for you maybe check out their range of Poke(moan) dildos here (Bulby, Charmy, Squirty and Piky).
Or Light up Laser Sword dildos here. Actually, these are kind of cool. And they've been reduced from $299 to $199. Hang on a sec. Add to cart. At least they look like an actual dick. But I think my absolute all-time fave would have to be Super Cock – Man of Silicone, complete with red cape.
Happy shopping kids, I mean ladies!