Who Wants to Visit This Park Full of Dicks??!!! I do! I do!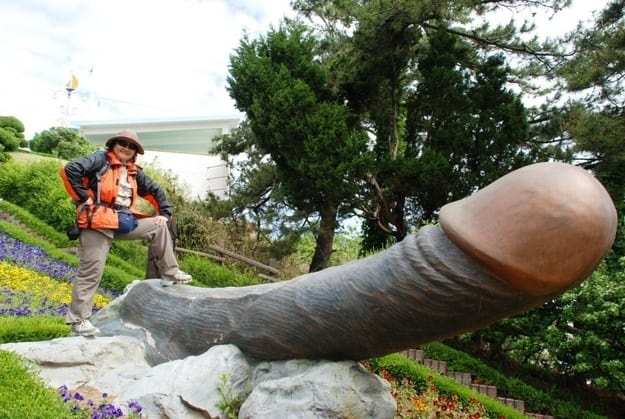 Looking for somewhere new to go on holiday? Maybe a theme park?
Disneyland? Tick.
Movie World, Dream World, Sea World? Tick. Tick. Tick.
Next on the list? Penis Park, of course!
People from all over the world are coming (get it?) in droves here to see a park full of dicks! 
The official name for this tourist attraction is Haeshindang Park located on the coast of Sinnam, South Korea. It is dedicated to a young virgin woman whose fisherman lover left her behind on a rock while he went fishing (sounds typical).
She was swept out to sea during a storm and perished. The story goes that following her demise, the supply of fish dried up so the village erected giant wooden penises to appease her spirit.
Luckily the plan worked as fish were once again in ample supply. 
You have to love this happy place!
You can study them. Climb, lay, or nap on them throughout the park. (And of course take selfies astride them).
Why is it so much fun to have a photo with a penis?
Maybe stop and have a think….
Rest your weary feet a while…
Excuse me while I call Flight Centre.