Woman Comes Up With Genius IKEA Hack So She Can Use The Toilet On Her Wedding Day!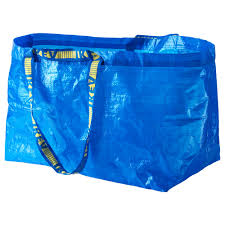 Woman Comes Up With Genius IKEA Hack So She Can Use The Toilet On Her Wedding Day!
Being a bride means having to deal with a lot of stress on your wedding day. You worry about your hair, your make up, whether it will rain for your ceremony and if your family is going to be on their best behaviour at the reception.
But perhaps the biggest stress is how you're going to manage to sit on the toilet while simultaneously holding up your wedding dress. Please note, this only applies to women like myself who choose the rather impractical poofy dress over the far easier slinky slip dress as their gown. I remember having to call my sister in to the cubicle with me so she could hold my dress and tulle up so my hands could be free to…you know…wipe myself!
One woman came up with a genius IKEA hack to hold up her wedding dress so she wouldn't have to resort to asking for help from her bridal party. I mean yes, they're there at your beck and call but surely there are limits to what your maid of honour should be expected to do.
The woman called Tina came up with the brilliant and inexpensive hack that solved this issue! With just a pair of scissors and an IKEA bag this bride invented the ultimate dress hitcher-upper. DJ Sweeby shared the wedding hack on his page saying he thought it would be helpful to a lot of brides out there. Tina also wrote a blog about it describing exactly how and why she came up with the bag idea.
"Well, I got married a few weeks ago (in a mermaid wedding dress) and I was really worried about going to the bathroom and not being able to … handle myself. Someone helping or watching me going to the bathroom on my wedding day? Not being able to have free hands to use the toilet paper? Or even worse if my period decides to show? NO WAY! Some stuff like this bridal bathroom helper exists but are expensive just because it is wedding related," she wrote.
"My bridal bathroom helper hack costs about 0.80 euro and I did it the day before my wedding. It took only 3 minutes. What I like best is it's almost free and allows me to make my life easier on my wedding day. So here is the hack." All you need is an IKEA FRAKTA big blue bag and a pair of scissors. Tina then describes every step in detail. First, "fold the IKEA blue bag," she wrote. "Cut in the middle of the bag's bottom. Careful: The hole must not be too big. It is better to cut a smaller hole and to enlarge it a bit later," she explained.
"It must be close to your body if you want it to work! I have large hips, DO NOT take my measurements as an example. Each body is different. Then, step inside the bag and place your feet in the hole. Put the large handles on your shoulders. If your hips do not fit through the hole, enlarge it a little bit. Again: just a bit! Your hips need to fit in the hole, but the closer the bag is to your body, the better. You are ready!" It actually is that simple and doesn't burn a hole in your wallet.
Tina added, "When you need to go to the bathroom: Simply step inside the bag, your feet in the hole. You don't need to remove your shoes! Pay attention to step in the hole, not in the bag if you don't want to have a dirty wedding dress. Take the bottom of your dress and put it in the bag — all of it. Place the larger handles on your shoulders. You can also if you prefer, ask someone to just help you put the dress inside the bag and to leave you alone after. You are ready to go! Both hands are free to do whatever you need to do without anyone watching!"
"You can: Pull down and up your underwear yourself, change your period protection yourself, you can use the toilet paper yourself! YEAY! Being a bride and having some privacy IS possible!" she concluded.
One commenter said that while the IKEA hack as great, perhaps having a less extravagant dress is the way to go. "This is a very good reason to use a very simple dress design for a wedding. I see absolutely no reason for cumbersome and elaborate things," she said.
What do you think? Would you have tried this on your wedding day?
Images: Facebook