Win 1 or 4 Leapfrog Prize Packs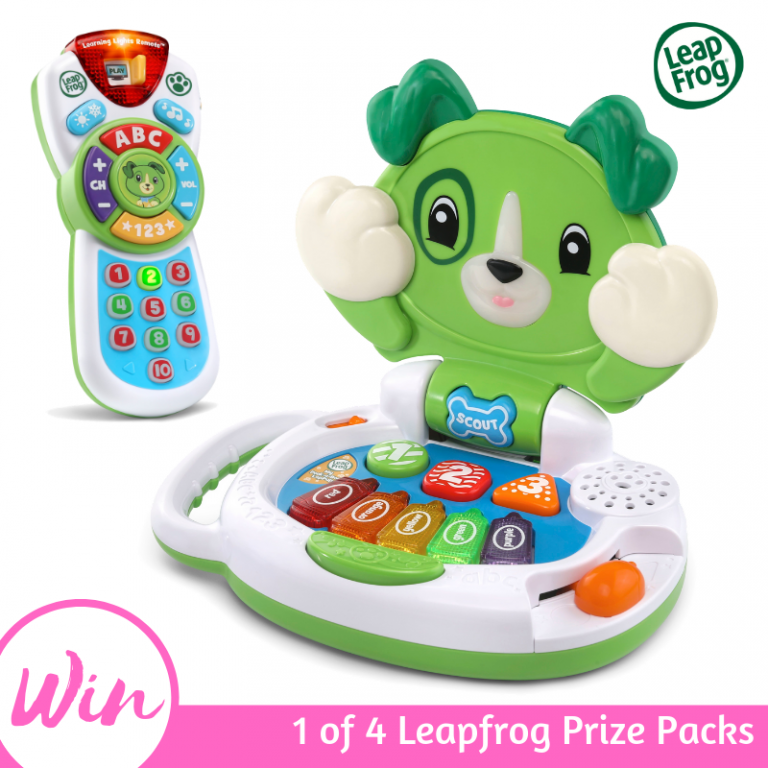 Win 1 of 4 Leapfrog Prize Packs
LeapFrog creates smart, fun experiences with every single toy, designed to help little learners get it, grasp it and grow.
Each toy is specially designed to help a specific age and stage of development, focusing on the milestones all children naturally work towards – without even knowing it! By mixing curiosity and opportunity, playtime becomes learning time too.
Knowing how children love to imitate Mum and Dad, you can now give them their very own remote control instead, Scout's and Violet's Learning Lights Remote.  With an irresistible light-up screen, lots of different buttons, a French language channel and two modes of play, the remote helps children tune into early learning concepts as they pretend play.
Introducing numbers, shapes and first words, these Learning Lights Remotes have more than 65 songs, tunes and learning responses.  Toggle up, down, left or right to play a shapes game or count along. Press the channel buttons to hear how Scout or Violet have fun in all kinds of weather, learn simple French words or to help count shapes in the garden. The number buttons prompt a counting activity, which encourages little ones to count bright-coloured shapes that light up on the screen. Lovable Scout and Violet are always at their fingertips to entertain, encourage and help children explore.
Suitable for infants from 6 months and available now from Big W, good toy stores & online retailers.
Learning is important business with the Peek-a-Boo LapPup! Open the toy laptop and say hello to Scout or Violet before getting to work on learning about rhymes, shapes, colours and numbers. Press Scout or Violet's name tag button to move their paws in front of their eyes and hear cute peek-a-boo phrases. Press the other buttons to activate more than 50 learning activities and songs.  Five crayon buttons light up piano keys to teach numbers, shapes and colours. Three shape buttons play rhymes about shapes, colours and numbers. Slide the clicking mouse up and down for additional imitative play. Close the lid and say goodbye!  Great for both at-home and on-the-go learning fun.
Suitable for infants from 6 months and available from June in Big W, good toy stores and online retailers.  
For further information on LeapFrog and its products, visit www.leapfrog.com.au, or check out the LeapFrog news on Facebook LeapFrogAustraliaand Instagram Leapfrogofficial.
For your chance to WIN 1 of 4 LeapFrog PRIZE PACKS each including a Scout Learning Lights Remote and Peek-A-Boo LapPup, simply enter your details below and good luck x