Parents Share Viral Video of the Incredible Moment Their Baby Was Born in the Car on the Way to the Hospital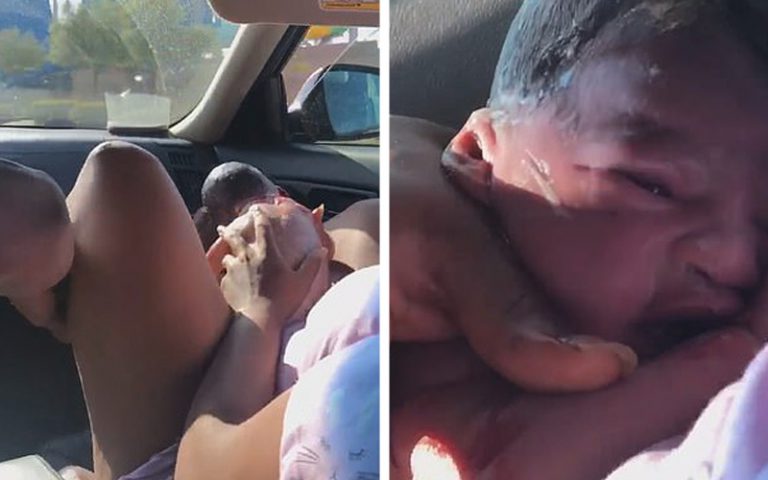 Parents Share Viral Video of the Incredible Moment Their Baby Was Born in the Car on the Way to the Hospital
A couple from Nevada in the US have released an incredible video of the moment that their daughter was born in the front seat of the family car on the way to the hospital with their three older children sitting in the back seat!
While father Mike Addison was frantically driving his wife Rudy to the hospital, their son Jayden was filming the amazing scenes in the front seat.
Racking up over 9 million views since the video was uploaded to social media on Saturday, the beautiful moment that baby Jolee was born has absolutely earned viral status.
Rudy's husband was driving her to what was supposed to be her final antenatal appointment with all three of their children in the back seat when Jolee Lavergne Addison decided it was time for her to come into the world last Friday.
As things began to get interesting in the front seat, the couple's ten-year-old son Jayden began filming, catching baby Jolee's grand entrance into the world.
"Mike the baby's coming out, Mike the baby's coming out," Rudy is heard to say as her husband attempts to drive the soon-to-be family of six to their local hospital.
"No, she's not," he replies, completely unaware of the seriousness of his wife's situation.
Realising that his daughter is, in fact, coming out, Mike says a few words to the camera welcoming his newborn.
"Hey Jolee, it's your father. Just want to let you know you're making a grand presence in my car.
"We're on our way to the hospital. We love you and we'll see you soon. We just wanna say a prayer and just pray and ask God that you're delivered safely and healthy and we just can't wait to put our hands on you."
Mike then asks his older children if they have anything to say, and Jayden flips the camera around to show his face as he jokes, "Hurry up."
His sisters are sitting next to him in stunned silence with tears streaming down their little faces. They become distressed as their mother gives birth but calm quickly once their baby sister is born.
"I couldn't take it any more," mum Rudy said of the moment when she felt she had to push, "And that's when her head popped out."
In the video, Rudy grabs her daughter as Mike calls out, "Hold her up, hold her up, oh, my God, hold her up."
"I got her," replied Rudy calmly and pulled her tiny daughter up to her chest.
In tears, Rudy then says, "We got a baby, she's so pretty," while making sure to include her older children in the experience, calling out to each of them by name.
In the video, the family seem to arrive at the hospital just minutes after little Jolee's birth.
Both mother Rudy and baby Jolee were given a clean bill of health and are now at home adjusting to life as a beautiful family of six.
What a birth story! Congratulations to Mike, Rudy and their children, and welcome to the world little Jolee!
Source: Facebook/Mike Addison