Woman Furious After Male Bartender Gets Her Phone Number From Coronavirus Track and Trace App and Sends Her Creepy Messages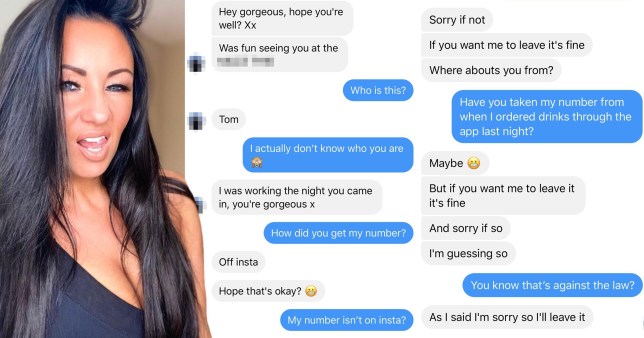 Woman Furious After Male Bartender Gets Her Phone Number From Coronavirus Track and Trace App and Sends Her Creepy Messages
A woman has been left feeling angry and annoyed after a male bartender got her phone number from a Coronavirus app that she used to order drinks from.
Having found her number on a track and trace app, the man sent her creepy messages in an attempt to hook up.
Lucy Dixon, a 32-year-old dancer and personal trainer from the UK, was shocked when she got a text from an unknown man named Tom saying: "Hey gorgeous, hope you're well? xx"
She took to social media to share the 'creepy' messages she was sent, saying it was a breach of the General Data Protection Regulation.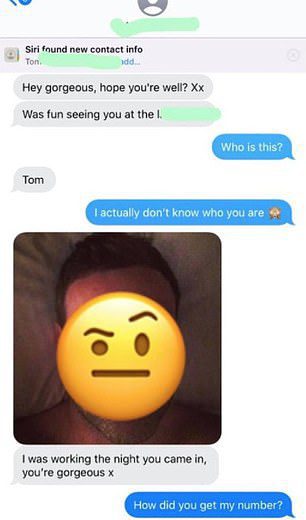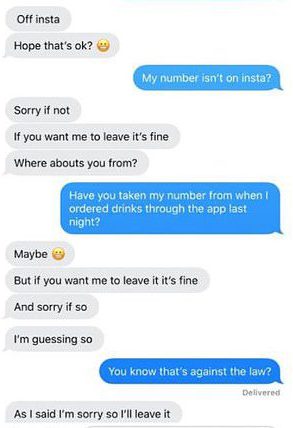 "Have you taken my number from when I ordered drinks through the app last night," Lucy replied, with Tom writing back: "Maybe" and a smiling face emoji.
Yeah, that's not cool in so many ways.
People who saw the Facebook post quickly took to the comments to vent their frustration that the system could be so easily abused.
One person replied: "I'd be straight telling the bar that you went to. What the hell. He's even sent a photo, how incriminating."
Another commented: "Wow this is horrendous!!!"
"A database is only as secure as those administering it are. In this case, not at all," another social media user wrote, implying that the bar had as much culpability as the man himself.
"I hope you reported him for that, it's utterly disgusting."
Violating privacy laws to send creepy unsolicited messages to women that come into your workplace would likely lead to immediate dismissal in many places of employment. There is no word yet on whether "Tom" is still gainfully employed at the bar that Lucy visited, nor if the establishment was fined for abusing her privacy and that of fellow patrons.
Source: Facebook/Lucy Dixon