You'll Never Be Short On Tampons Again- You Can Now Get Your Period Essentials Delivered To Your Door!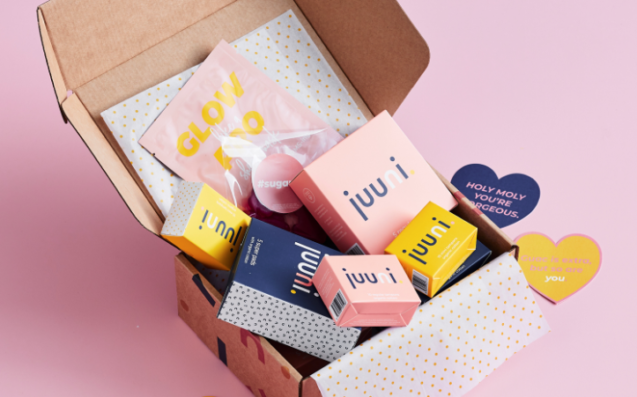 You'll Never Be Short On Tampons Again- You Can Now Get Your Period Essentials Delivered To Your Door!
If you've ever found yourself hunting through the bottom of handbags to find hidden tampons when Aunt Flo comes to visit then this subscription period box may be just what you need!
Juuni is a monthly subscription service which will deliver a box of organic tampons, pads and liners to your door so you don't have to search through bathroom drawers and cupboards in hopes of finding a spare pad you forgot you had.
We've all been there. Ransacking our bathroom cabinets in the middle of the night. Pleading with friends and partners to go to the shops to buy our tampons or pads for us (while bundled in foetal position, moaning like a poltergeist). Leering behind our office comrades while summoning the courage to ask if they have a tampon. Yeah. Tick box, tick box. Tick. Box.
Enough. And enough dread, too. Our periods can suck. Truly. But the experience around them doesn't have to. So we created Juuni. A friendly little box of goodies that will save you (and potentially your relationship with your friends/partner/co-workers/all of the above) some of the stress associated with periods.
And who hasn't sent their partner to the supermarket with strict instructions of which pads or tampons to buy? I'm often having to coach my husband through wings or no wings and under no circumstance is he to come home without chocolate! Yes, Juuni will place a sweet treat in there for you too because let's be honest, calories consumed during our periods are instantly negated- we all know that!
How does it work?
Juuni is a subscription service, created by women for women. It's simple – you tell us what products you need every month (and how many), and we make sure you get a custom box of organic tampons, pads and/or liners delivered to your door.
And that delightful little box isn't just a pretty face. Every delivery has the products you've selected, along with some sweet nothings to make the whole period experience a little bit more friendly and a little less of an a-hole.
Oh, and PS: Our organic period products come in smaller packs, so you can mix and match to suit your flow. Genius, really.
You can even customise your…ahem…box by heading to the Build My Box page on the Juuni website and select what you want.  Your first Juuni box is free and as part of the subscription package, Juuni can provide free shipping depending on a couple of details.
If this is something that sounds right up your alley then check out all the details right here.
Images: Juuni