Mother's Day Gift Idea: First Class Hampers Review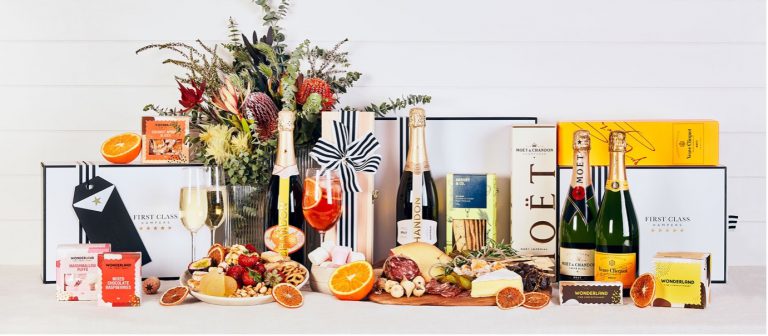 It's that time of year when your social media feeds will start to fill up with gift ideas for Mother's Day. Whether you are doing the gifting, or the receiving this Mother's Day, or a bit of both, let me share a little with you about my personal experience of being gifted a luxurious hamper from First Class Hampers. 
If the word 'hamper' conjures up images of the woven basket you won, containing lavender body wash and talc, and wrapped in cellophane from last years' school raffle, think again! First Class Hampers are beautifully presented in a sturdy, high quality, gift box, which comes complete with ribbon and gift card.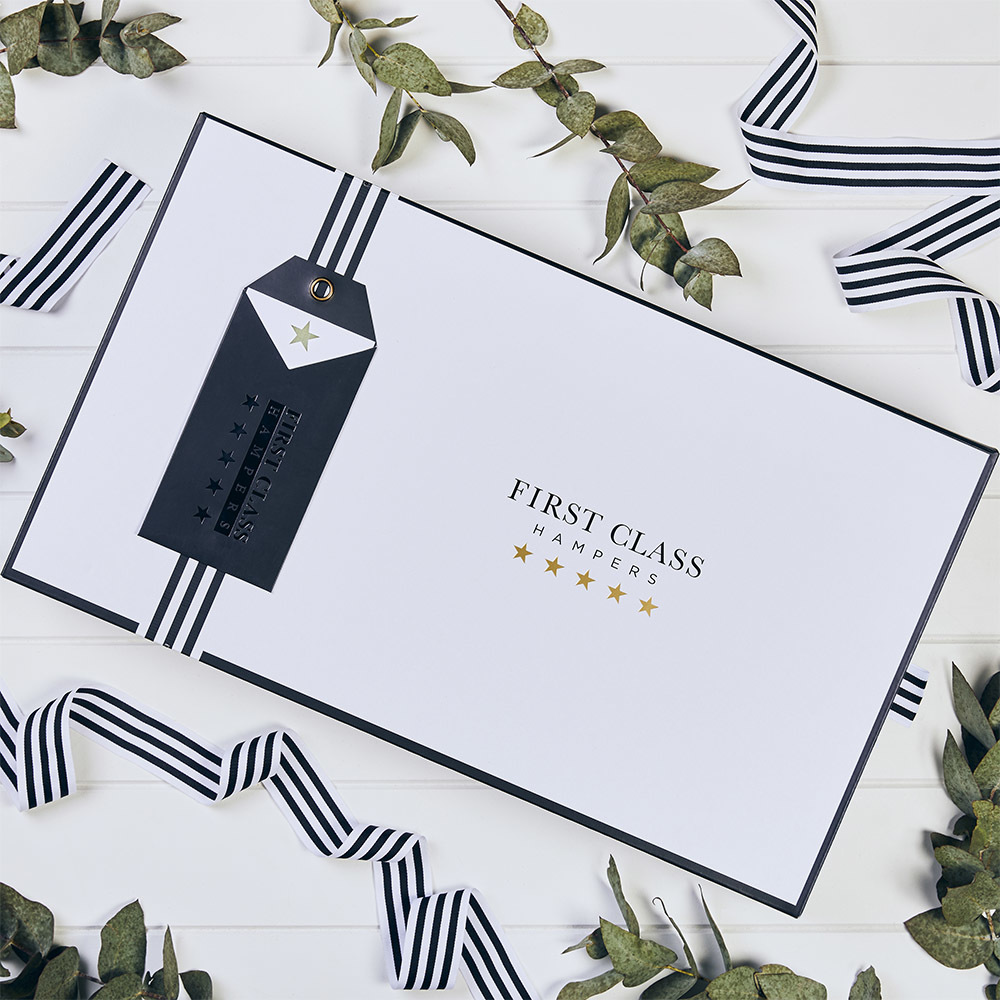 Unboxing your goodies, is an experience in itself. And just wait until you see how meticulously they've been packed!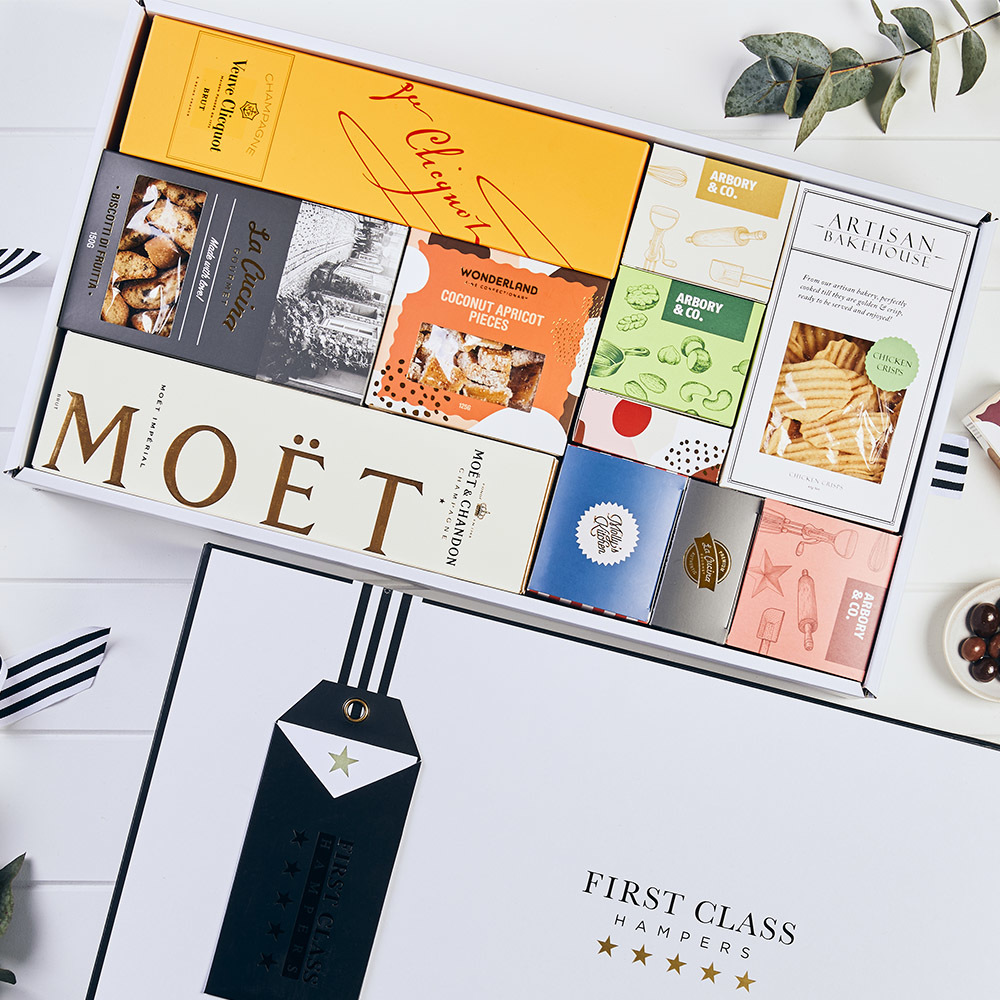 Nothing says "I'm sorry for leaving wet towels on my bedroom floor," or "thanks for sitting watching me play sports in all weather," quite like a bottle of champers. So, a hamper containing 2 bottles of the good stuff, plus a large selection of the type of gourmet, artisanal treats that most mums would never buy for themselves ordinarily, is to my mind, the perfect way to show mum that you appreciate all the things she has done for you over the years.
The Moet & Veuve Champagne LUXE hamper I received included;
Moet and Chandon French Champagne 750 ml
Veuve Clicquot French Champagne 750 ml
Artisan Bakehouse Chicken Crisps 90g
La Cucina Gourmet Biscotti Di Frutti 150g
Wonderland Coconut Apricot Pieces 125g
Paddock& Co Montery Jack Cheese Soya Crisps 90g
Arbory & Co Honey Glazed Premium Peanuts 150g
Molly's Fine Caramel Popcorn 70g
The Pantry Honey Dijon Crackers 100g
La Cucina Salted & White Chocolate Pretzels 85g
Paddock & Co Raspberry Jam Rounds 150g
Sweet Emporium Juicy Pineapples in Milk Chocolate 100g
Ruben's Gourmet Jelly Beans 60g (Obviously I had to eat these immediately so that nobody else got their little mits on them!)
Whether your mum savours the delicious treats over the coming weeks, keeps them for a romantic evening in or, like me, uses it as an excuse to invite some equally deserving mums over for the evening to share the love, this luxurious selection of Australian made delicacies and premium champagne, is sure to leave her feeling very special and appreciated.
The great thing about First Class Hampers is no matter what the occasion, or your budget, there is a hamper to suit your needs. There are hampers for his and her birthdays, weddings, anniversaries, and soon they'll be adding new baby hampers to their impressive collection. I love that it's a wholly owned and operated Australian company, that has grown steadily since it was founded in 2002, to become now, Australia's largest luxury gift hamper company. Harnessing their influence for good, First Class Hampers advocates for giving back to the community on a consistent basis. When customers choose to donate $1 or $2 during the ordering process to one of their charity partners, they match every donation dollar for dollar every month.
I am so impressed with the quality, selection and presentation of this hamper, and can whole-heartedly recommend trusting them with your Mother's Day gift this year. Everyone knows that mums don't have favourites, but I reckon she'll be dishing you up the biggest slice of dessert at the Mother's Day lunch after she opens her First Class Hamper!
First Class Hampers are offering 10% off and free delivery on selected hampers for Mother's Day. View their range here. 
Order before 2pm on Tuesday 3rd May for guaranteed delivery by Mother's Day.
Disclosure: I was gifted this hamper for the purpose of providing an honest review. All thoughts and opinions expressed here are my own.