The Globber 18.0 by Kleefer Folding Scooter with Hand Brake Review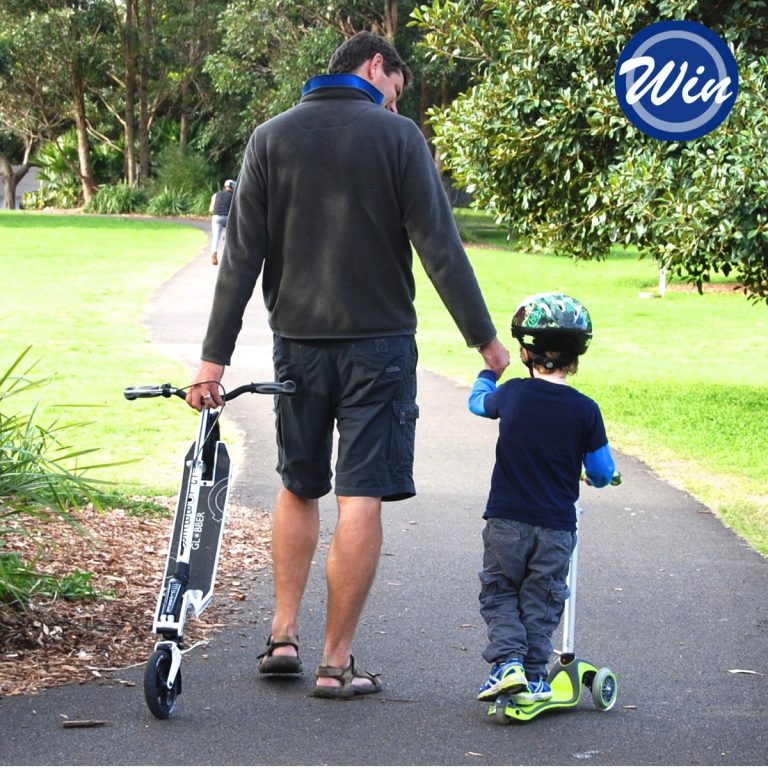 The Globber 18.0 by Kleefer Folding Scooter with Hand Brake Review
As the years go by I find it harder and harder to find the perfect gift for my husband for Father's Day. Over the years the kids and I have exhausted all of the usual gift-suspects and are left scratching our heads as to what we could get that would both surprise and excite him at the same time. This year Globber stepped in to offer the perfect choice of gift for my little ones active, fun loving, big kid of a Dad and this slightly early Father's day gift went down a storm!
This year our 4 little ones all ventured speedily into the world of scooter riding, some with more experience that others, but all with the same thing in common….they all scoot like little rockets, leaving Mum and/or Dad for dust! While this can be a great thing when you want to get somewhere fast, it does have one minor problem….how do I keep up with those speed demons?! Hence our gift idea for Dad this year may have also had a slightly ulterior motive, as I was hoping to get in on the action too, after all 'if you can't beat them, join them!'.
As the kids presented their Dad with the Globber 18.0 by Kleefer Scooter for his early Father's Day gift, his eyes lit up and he seemed just as excited as the kids did handing it to him. Just like a big kid his words were 'Epic! Ooh it has brakes, ooh it's bigger than yours, ooh I bet I have the fastest one now' words that riled up the kids and before I knew it we were heading for the park to put it to the test.
The Globber 18.0 by Kleefer Scooter certainly looks the part, with its quality robust frame, shiny aluminum, mudguards, hand brake and large wheels but more importantly the quality of the rolling parts and mechanisms makes for a really comfortable and smooth ride allowing Dad (and Mum when she gets a look in) to happily keep up with the kids.
The adjustable height handle on the Globber 18.0 by Kleefer Scooter means that not only can my tall (6ft 4) husband comfortably use it without stooping over but it is also easily adjusted for both me and our 8 year old son, who took great delight in showing Dad how to ride his new scooter properly.
My favorite feature on the Globber 18.0 by Kleefer Scooter has to be the revolutionary one kick folding mechanism… with 4 small kids, who has time to faff around with fiddly folding mechanisms!?!? Nope not me and, while Dad loves the gadgetness (if that isn't a word it should be) of it, Mum loves how practical and time saving it is, so it's a win all round.
The front and rear brakes on the Globber 18.0 by Kleefer Scooter are a great addition to this model. Picking up speed and chasing kids downhill can be great fun until one of them swerves in front of you or stops right in your path, having the hand brake has certainly proven a very worthy feature enabling many sudden stops to end well.
After my husband discovered that the Globber 18.0 by Kleefer Folding Scooter has a trolley mode feature combined with the easy parking storage option allowing it to be stood up with the kick stand or vertically stored, he decided that it would be perfect to take it to work and use it hoping on and off public transport and transitioning to and from different meeting locations across the city…great for him, boo for me!! I was quite looking forward to using it when he is not around but looks like he won't be sharing (insert sad face for me)
The Globber 18.0 by Kleefer Folding Scooter is great fun, looks awesome, is robust enough to endure significant use both by adults and children, has some amazing features that make it really stand out from the rest and is therefore the PERFECT GIFT FOR ANY DAD (or Mum), whether that's for work or play.
Written by Julie Williams
Giveaway
Thanks to Globber  we are offering our fans the chance to WIN a Globber 18.0 by Kleefer Folding Scooter worth $350! Simply enter below and good luck.
Disclosure: The author was gifted this product for the purpose of giving an honest review. All thoughts and opinions
Win a Globber 18.0 by Kleefer folding Scooter for Fathers
Day