Educational Toys Review: Marble Run Super and Alphabet Lacing (Plus Giveaway)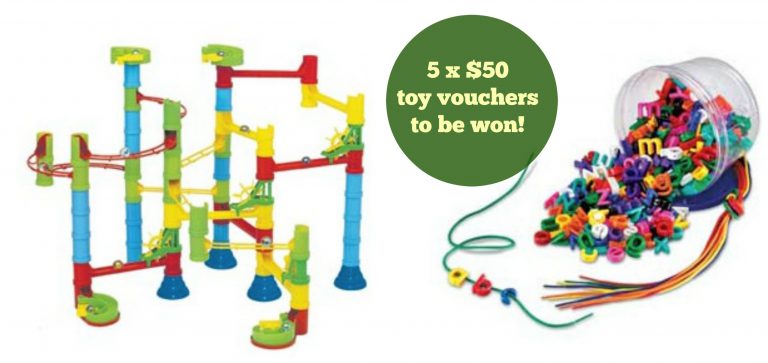 Sponsored post
Christmas is fast approaching! Which can only mean one thing. Whether you are a parent, grandparent, auntie, uncle or a friend – chances are you are on the look out for toys. It's all about the toys! With so many different toys to choose from, and so many stores to shop at, shopping for little people can be a little overwhelming. Where do you even start? If only you could visit one shop, that stocked all the best toys, and get all your toy shopping done in one hit. How much easier, and less time consuming would that be?
Well…what if I told you that I may just the place!
Child.com.au is an Australian Educational Superstore for parents and caregivers to buy toys, educational games and resources for children aged from birth to high school. We're talking educational and fun stuff that kids love – in fact stuff so fun that they don't even realise it's educational!
The team at child.com.au is made up of former teachers and dedicated educational professionals who handpick product from the world's top suppliers that reflect their belief in the power of play, supporting and enhancing sensory awareness, as well as motor, language and cognitive development in children of all ages.
Educational Toys Review
My children and I were lucky enough recently to be sent some toys from Child.com.au to review and share our thoughts and experiences. The toys that we received included, Quercetti Super Marble Run (100 pieces), Learning Resources lowercase lacing alphabet and Zoob – The moving mind-building modeling system.
Quercetti Super Marble Run $45.99
My kids (aged 6, 7 and 9) could not wait to get into the Marble Run. With it's columns, chutes, curved and straight rails, spinning wheels and multiple marble launchers it seemed to promise hours of fun.
And it delivered!
The set includes 100 pieces (including 10 marbles). That's enough for all three of my children to play at once – or individually. It was quite fascinating to watch them assemble the pieces the way they wanted them and then launch a marble from the top of their structure. 9 times out of 10 the marble didn't follow the path they thought it would, and they'd have to take pieces off or switch them around to create the desired outcome.
It was great to observe them understanding the principles of cause and effect, and employing problem solving skills.
We've already had hours of fun from the marble run set – they are currently working together (almost unheard of!) to build a structure as tall as they can manage!
This toy is suitable for children 4+, but appeals to children much older than this also. My 9 year old aka 'Woo' has enjoyed playing with it and doesn't consider it to be too young for him – and I may or may not have enjoyed an hour playing it with the kids myself last night. Lol!
Lowercase Alphabet Lacing Review
My little Preppy Bubble, who turned 6 last week, is what you might call a reluctant reader so I am always keen on finding ways to help her with letters and the alphabet in convert ways. If she thinks you are doing 'reading' she'll run a mile – but she absolutely loved playing with the alphabet lacing set.
I let her lead the play, and hung in the background for support or to answer her questions.
Firstly she threaded the letters onto the lace in an alphabet sequence. This helped her to recognise each letter, and place it in the correct position. It also required her to think about which way around the letters should be, and I was able to give her prompts to reassess, by asking if any of the letters looked like they might be the wrong way around, or asking if the one she had threaded looked the right way.
Bubble had a real sense of achievement after completing the alphabet and reciting them back to me, and quickly moved on to making words with the letters.
My reluctant reader was in her element reading and spelling! Once she had finished with the simple letters she even invited me to suggest words to her that she could try to spell!
I almost fell over! If only I had found these earlier!
This toy has already proved to be a fantastic, fun way to encourage her literacy in just one short week. It is suitable for children 3 + and in addition to supporting hand-eye co-ordination and fine motor skills, it can also help children to build their confidence, letter recognition and even spelling whether they are in pre-school or Primary. Children who aren't ready to learn letters can also enjoy grouping them into colours or simply practice their threading skills.
Zoob – The Moving Mind-Building Modeling System
A busy after-school schedule this week has meant that we are yet to open the Zoob box and dive in. But judging from the box and the unlimited building potential of those 250 pieces packed in there – I think that this toy may warrant a review all of it's own!
I'll set the kids to work play this weekend, and share our thoughts with you next week.
But my initial impression of it is that they are going to go ga-ga for it! It's a construction toy with the added bonus of allowing you to make things that move! That's really cool!
Toy Testers Video Review
My children aren't the only ones who've had a ball playing with these toys from child.com.au. Kids Lounge Toy Testers also road tested Lowercase Alphabet Lacing and Super Marble Run . Watch them play and share their thoughts.


If you still have Christmas gifts to buy – I can highly recommend Child.com.au.  They have a huge range of toys and educational games that are fantastic quality and super FUN!
Giveaway
For your chance to win one of five $50 vouchers to spend on child.com.au online superstore in time for Christmas, simply complete the entry form below.
Good luck and happy shopping!
a Rafflecopter giveaway