Family Car Review: Mitsubishi Mirage Sedan ES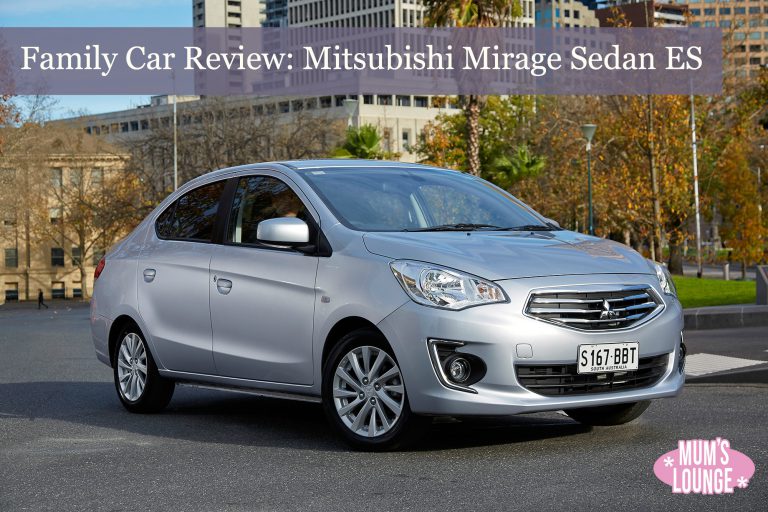 Sponsored post
Family Car Review: Mitsubishi Mirage Sedan ES
Last month, my family and I test-drove the new Mitsubishi Mirage Sedan for a week. Now, I would be lying if I made out that I was some kind of car expert. I'm not. In fact, I would have more luck trying to squeeze into my pre-pregnancy jeans than I would of naming anything under the bonnet of my car. However, having said that, I do have a very clear idea of what I want and expect from a vehicle that I drive.
Safety
Top of the list of course comes safety. It is not unusual for me to ferry my own kids plus a friend to after school sports or birthday parties etc, so my family car has to tick this box first and foremost.
The Mitsubishi Mirage Sedan ES features the highest possible, 5 star ANCAP safety rating, thanks to these great features:
6 SRS airbags Side airbags for thorax protection, Curtain airbags that drop down from the ceiling and protect the occupants from side collision and driver & front passenger for head on collisions.
Brake assist A system that monitors the swiftness of a driver's brake pedal application and applies additional braking force if it determines that a panic stop is occurring.
Active stability control This maintains stability and control when cornering by automatically recognising under-steer and over-steer. It applies brakes to the appropriate wheels to keep you online through corners.
RISE body Reinforced impact safety evolution: This provides a reinforced body construction, coupled with a four-member battery frame directly connected with the chassis, strengthens the entire body and improves collision protection.
ABS Anti-lock braking system Delivers lock-free braking power and control in emergency situations and on slippery roads.
EBD The electronic brake-force distribution system distributes braking force to all four wheels to enhance braking performance.
Value for Money
Coming in second on my priority list, is most definitely value for money.
With 3 children to feed, clothe, etc, finding value for money in every area of our lives has increasingly become a priority for my husband and I. The less money we spend on life's necessities, the more we have left to enjoy days out, holidays and quality family time with our children.
The Mirage Sedan range is competitively priced within the light car segment ranging from $15,990 to $19,485 drive away (you have to test drive this car to really get a feel for how much you get for this money. I think you will be very pleasantly surprised!)
With regards to running costs, the Mirage Sedan is 'best in it's class' for fuel economy of 4.9l per 100km. With ever increasing fuel prices this makes the Mirage Sedan an especially attractive option for a family car.
Space & Storage
Having space and storage in our family car is also something that my husband and I consider important. Whilst we may have passed the stage of carting a stroller around with us everywhere, we do still need enough room for groceries, sports equipment, luggage for 5 people if we go to the airport etc.
The boot space on the Mirage Sedan was a bit of a surprise to me actually. Being a compact car, I had expected it to be fairly small – so when I opened it to reveal a large 450-litre boot I was really impressed. (As a small boot for my family, would be a deal-breaker). And for those of you who are still carting around the stroller, you'll have no problem getting it into the Mirage Sedan.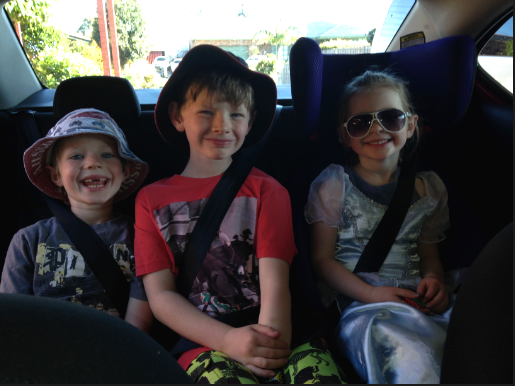 Fortunately I only have one child who requires a car seat now, so my three children could fit nicely along the backseat with ample legroom. The Mirage Sedan does come equipped with three tether anchorage points and two isofix hooks allowing you to fit two child seats easily and comfortably.
The Mirage Sedan also incorporates other storage features such as cup holders for front occupants (crucial for those of us who take our caffeine hit on the run), drink holders in the rear, rear armrest with cup holders, and a convenience hook for your bags
Convenience and Features
With my three boxes ticked: safety, value for money, and storage and space; the Mirage Sedan ES also offered a whole host of other features:
1.2L DOHC MIVEC petrol engine
5-speed manual transmission or optional Continuously Variable Transmission (= CVT: to be driven like automatic)
Electric power steering
15-inch aluminium alloy wheels
Active Stability Control
Hill Start Control (CVT only)
Driver and passenger front airbags
Side and curtain airbags
Exterior lamps with Emergency Stop Signal (ESS)
Air conditioning
Bluetooth® phone connectivity with audio streaming and voice control
Steering wheel with audio and phone controls
AM/FM CD player with USB input and four speakers
Power door mirrors
Chrome exterior highlights, including:
Chrome radiator grille
Chrome fog lamp bezel
Chrome trunk lid garnish
Body colour door handles and mirrors
Power windows with driver side auto up and down
Driver's seat with slide, recline and height adjustment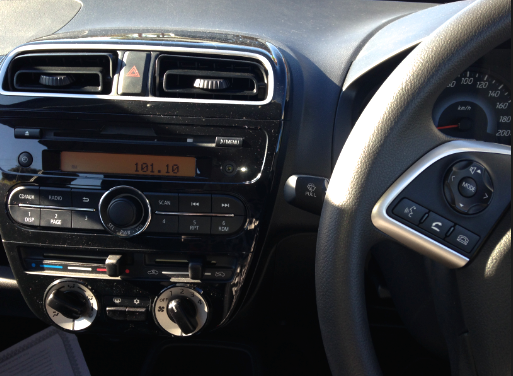 I was really pleasantly surprised by the Mitsubishi Mirage ES, and was sad to say goodbye to it at the end of the week. It was really comfortable to drive, and I loved the freedom of being able to manoeuvre in and out of small spaces that I wouldn't even consider in my Nissan Elgrand. I felt safe driving it, and despite doing all my usual family trips, I only spent $30 on fuel, compared to usual $60! Love that!
THE MIRAGE SEDAN IS DESIGNED FOR FAMILIES LOOKING FOR AFFORDABILITY AND VALUE FOR MONEY WITHOUT COMPROMISING ON STANDARD FEATURES, LATEST TECHNOLOGY, SAFETY AND SPACE. FOR MORE INFORMATION VISIT THE MIRAGE SEDAN SHOWROOM HERE.
Disclosure: This is a sponsored post. However, all thoughts and opinions are my own.