FESS Little Noses Spray & Aspirator Review and Giveaway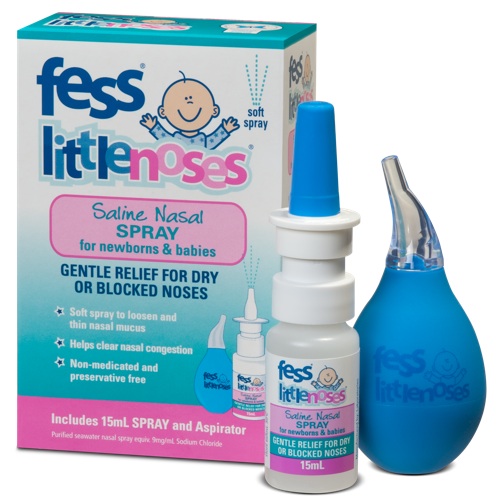 Sponsored post
For the first few months, a baby naturally breathes through their nose, so a blocked nose caused by a cold or allergy, can make feeding and sleeping very difficult. But, thanks to FESS you can clear your baby's nasal passage quickly and easily.
FESS Little Noses Saline Nasal Spray is a non-medicated saline solution that can be used to effectively loosen and thin mucus to help clear a blocked nose. (For babies under 3 months, there is Fess Little Noses Saline Drops.) The solution is preservative and additive free and can be used as often as needed without side effects.
The Aspirator is a rubber bulb syringe with a soft tip designed to gently suction the mucus loosened by the FESS Little Noses saline solution from baby's nose to clear nasal conjugation and make feeding and sleeping easier.
Ten mums were given the opportunity to put FESS to the test with their baby, and to share their experience and thoughts regarding this product.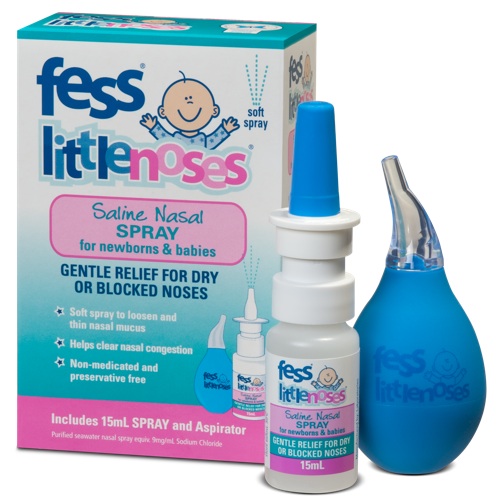 Reviews
Fess is fantastic and it has really helped improve my sons breathing and because he's breastfed it's helped clear his nose, making it easier to feed. Also the fact that it doesn't contain harsh chemicals means that I can use it more often and not worry that its harming my bub. It also makes for a happier baby which means a happy mum.
Thank you so much for letting me trial this product and I will be recommending it to all my friends of babies and mums to be.
~ Rylee, 29, NSW, mother to a 3.5 year old and an 8 month old
The saline solution was easy to apply using the spray. My son barely noticed when I put it in. The aspirator was great at getting the excess mucous out, which made feeding and sleeping so much easier! Before using Fess, my son was off his food and had very interrupted sleep. Fess made such a difference for him.
Aleisha, 33, QLD, mother to a 7 month old
This product was easy to use and gentle for my daughter especially when she was not feeling well and considering how young she was I wanted something natural that wouldn't irritate her. I liked how quickly it helped with clearing her nose I really felt it was the best thing for her and I would highly recommend this to all the mums. I will defiantly buy this and have it handy.
~ Mona, 32, NSW, mother to 8 month old
Its such a great product…easy to use. My daughter couldn't breath properly because of the flu. Her nose was blocked and she had thick mucus. Fess helped her so much after 3 uses (3x sprayed into each of her nostrils)
Thank you
~ Priscilla, 32, NSW, mother to an 8.5 month old
Easy and simple to apply the solution into my daughters tiny nose I firstly had her play with the bottle with the lid on so not to scare her when I used it. It was quick with the application. Then the bulb was designed to be easily held in the hand and I was able to remove mucus without causing much discomfort to my daughter. I had tried many other products on the market however this by far out shines them all. I will strongly recommend this to friends and family.
~ Yasmin, 29, NSW, mother to 1 year old and 3 year old.
Thought it was okay. It worked, made his nose very runny. My favourite thing was the suction tube that was included. I take it everywhere with me now!
~ Nour, 28, NSW, mother to a 6.5 month old.
It is really good for the thick, mucus-y stage of the cold. It definitely relieves their sinus cavities, and the spray is great for loosening a blocked nose. The runny nose, sneezy stage I found hard to use the suction part and could not get much out. Best for thick, yellow or green mucus which is persistent and so hard for the baby to breathe. This would be ideal to buy from newborns until two years. Thanks so much for introducing me to such a helpful product!
~ Sarah, 32, NSW, mother to a 3 year old, and an 18 month old.
Terrific – easy to use and the aspirator was angled perfectly and just the right size for little nostrils. It was quick and pain free. Easily cleared my sons runny nose. Definitely continue using it when required.
~ Rose, 40, QLD, mother to a 2 year old.
It seemed to work ok. My son was happy to let me use the nasal spray, although wasn't too impressed with the boogey sucker.
He slept through most of the night, so I am guessing that it must have worked to clear his nose.
~ Alison, 30, SA Mother to an 11 month old
I love Fess – it's helped so much with congestion and the spray is easy to use. My little one didn't always like having the spray up his nose but Fess is so quick and easy to use.
Jaimee, 31, QLD, mother of a 26 month old, and a 6 month old
It was great, cleared up the blocked nose really quick and the sucker was easy to use which was helpful as I have to do it quickly. My daughter hates her face wiped and the nose sucker.
~ Sarah, 24, VIC, mother to an 8 month old.
Loved it…..a very easy and handy device. I give a couple of squirts then massage the sinus area. OMG Amaaazing the amount of gunk that comes out. Thanks for supplying a great product.
~ Julie, 43, VIC, mother to 13 month old twins.
FESS Little Noses Prize Pack Giveaway
FESS are giving 10 Mums Lounge readers the chance to win a fantastic FESS Little Noses prize pack consisting of: FESS Little Noses spray and aspirator, FESS Little Noses drops and aspirator, 1 x Pack of Little Eyes Wipes and a $50 Priceline gift voucher.
To enter, follow the instructions on the Rafflecopter widget below.
Good luck.