Help Your Child Breathe Easier this Winter with a Nose Frida Snot Sucker – GIVEAWAY



It's not very often that you will hear me say that a product I am reviewing sucks, but in the case of Nose Frida, that is exactly what it does. It sucks snot – big time!
As any parent of a baby or young child will know, a cold or upper respiratory infection can spell a miserable time for all involved.
Blocked nasal passages means that young children and babies have difficulty breathing, sleeping and feeding, and this can spell a very tiring and worrisome time for parents too.
Developed by ear, nose and throat specialists over 10 years ago in Sweden, the Nose Frieda is a safe, reliable and hygienic solution to reducing the amount of mucous, and is used by over 500,000 parents annually, worldwide. (In fact it is currently the 3rd best selling baby product of all time on Amazon.com, and is also used and recommended by pediatricians).
So…how does it work?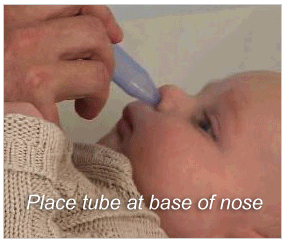 Well, it's as simple as it looks really. Unlike bulb aspirators, Nose Frida is non-invasive so there is no danger of damaging the sensitive lining of your child's nose. The large tube is placed at the base of your child's nostril. Now, you have to bear with me, the next bit sounds gross but thanks to the hygienic filters there is no chance of you coming into contact with any horrible bacteria and there is absolutely NO chance of getting snot in your own mouth…okay?
So the red end is the mouthpiece. That's right! You place the red piece into your mouth and apply gentle suction…and voila! You have a tube of snot, which is easily washed in warm soapy water, and your child has a free nasal passage to allow them to sleep, feed and breathe more easily.
Considering babies get on average a whopping seven colds a year, at just $15.95 Nose Frida is most definitely on the Mums Lounge no-brainer list of parents (of newborns-toddlers) must-haves this winter! The fact that this contraption is simple to use even in the middle of the night and doesn't require any batteries secures this product a double Mum's Thumbs Up!
You can find your nearest stockist here, or you can buy online here.
Mum's Lounge has 20 Nose Frida's to giveaway.
To enter simply follow the instructions on the widget below and good luck!