Lime Tree Kids Christmas Gift Guide PLUS $100 Gift Voucher GIVEAWAY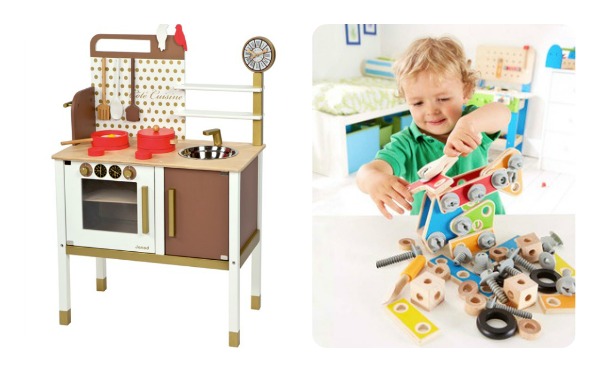 If you're on the look out for some unique, stylish toys to go under the Christmas tree this season, you are going to love Lime Tree Kids. All items in their extensive online range, are handpicked for their usefulness, creativity, developmental and emotional encouragement and overall fun-ness!
Lime Tree Kids pride themselves on offering the best products of exceptional quality, that encourage positive interaction, bonding, stimulation of the senses and healthy living. What's more, they are eco-conscious and budget savvy, so you can rest assured their products won't cost the Earth!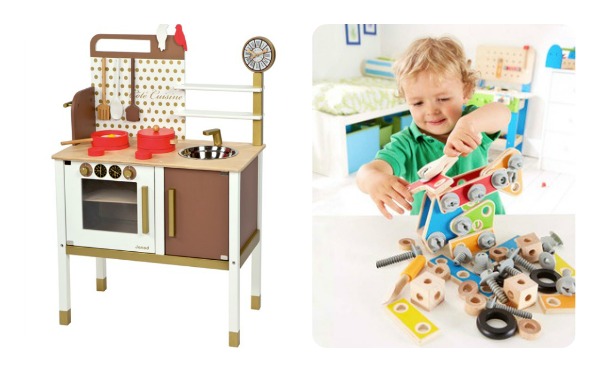 Encourage imaginative play and healthy eating habits with this stylish play kitchen from Janod. With an oven, a hotplate, a sink and a storage cupboard your little chef can cook to their hearts content. This playlet also includes 3 wooden cooking utensils, 1 casserole dish with a lid, 1 frying pan with an egg, and an oven kit. Suitable from 3years +
Little builders will love this carpentry set from Hape which includes 62 pieces with connectors, and a little booklet that will inspire creative imaginative play. Build cars, planes, forklifts, etc. Suitable from 3 years +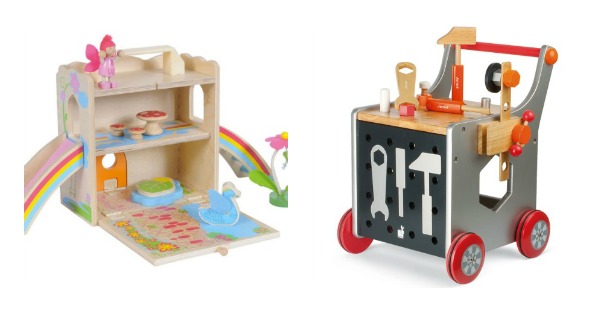 This portable and stylish wooden play set packs away into a convenient box making it easy to carry and great for travel. It features two whimsical fairies, a toadstool furniture set, flower hammock, a magical swan, a lilipond bed and a rainbow stairway.
Other boxsets available include car, airport, train, doll house, beach villa, castle and pirate. Suitable from 3 years +
DIY Trolley with Magnetic Tools
This gorgeous tool kit trolley consists of 20 building accessories, 3 magnetic tools, a vice and a trolley. The trolley also features sturdy rubber gripping wheels perfect for indoor use. Suitable from 18 months +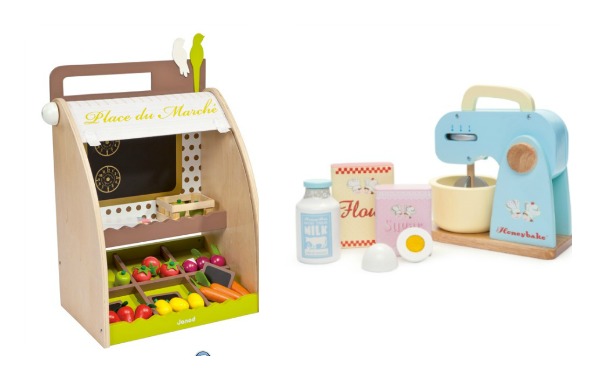 This delightful french-style fruit and veg shop features an awning that opens up to reveal 18 fruits and vegetables, 3 chalk board slates, 1 wooden crate and box of chalk. Suitable from 3 years +
This Honey bake mixer comes with detachable bowl and spoon, and four play ingredients: egg, milk, flour and sugar. Suitable from 3 years +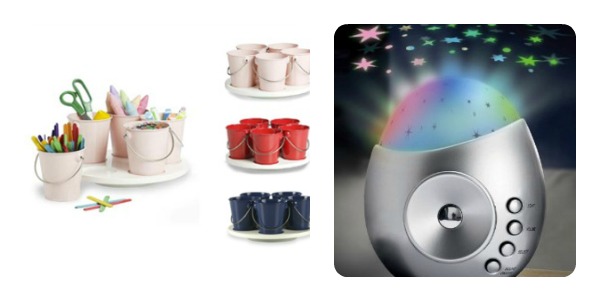 Organise your child's craft table with this craft turntable that'll keep all the mess off the floor and on the table. Buckets are removable, making sorting your child's pencils, crayons, chalk etc, easy to sort.
Galaxy Star Projector and Sound Machine
Sooth your reluctant sleeper, and transform your child's bedroom with this light and sound projector. The Galaxy Star Projector features six calming sounds of nature to choose from; ocean surf, birds with creek sounds, rainfall, babbling brook, birds and night sounds. Also doubles a s a speaker for your MP3 player or smartphone.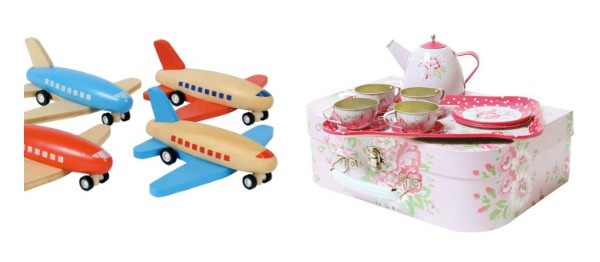 There are 4 brightly coloured aeroplane's to collect – just pull it back and watch it go!  Also available – pull back emergency vehicles, and pull back skaters! Suitable from 3 years +
This 15 piece vintage design tea set features a gorgeous floral suitcase, 1 serving tray, 1 teapot, 4 plates, 4 saucers and 4 tea cups. Suitable from 3 years +
Lime Tree Kids offer FREE SHIPPING on orders over $150 (see more details here) 
and a LAY-BY option on orders over $100 (see more details here) 
Lime Tree Kids are giving you the chance to WIN a $100 gift voucher to spend in their online store to get your Christmas shopping started.
To enter, simply follow the instructions on the rafflecopter widget below. Good luck!
Only open to residents of Australia.