Healthy Rustic Chicken and Bacon Tart Recipe (Plus GIVEAWAY)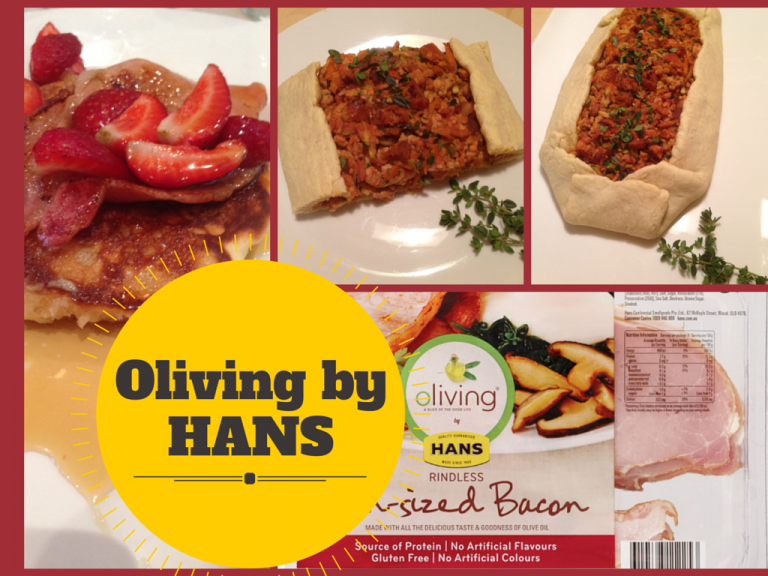 Smallgoods Get a Healthy Makeover, Thanks to Oliving With Hans!
Sponsored post
Traditional smallgoods and maintaining a healthy diet do not go hand-in-hand. Deli meats are very high in unhealthy saturated fats. They can certainly make your meals taste amazing and therefore tempt you to overeat. Even just a small serving of Kabana can take your daily fat intake above the recommended daily limit. It is no wonder that excluding them seems like a logical choice. That is all about to change. For the first time in Australia, you can now buy smallgoods that are full of flavour but a lot lower in fat. Thanks to Oliving with Hans, you really can have your bacon and eat it too!
The Mediterranean diet has always been considered one of the healthiest in the world. This is mainly due to the extensive use of olive oil in food preparation and cooking. Oliving by Hans has changed the way deli meats are produced. By replacing some of the animal fat with olive oil, the new range tastes fabulous and is much better for you. Whether you are entertaining, making everyday meals or packing school lunches, the extensive range gives you plenty of options for variety.
Your kids will love the Oliving by Hans mild Twiggy Sticks and Cocktail Franks. Hot dogs can definitely be back on the lunch menu with the Thin Franks. Peperilli Salami and Traditional ham will make homemade pizza extra tasty, and all without you having to feel guilty about feeding your family unhealthy meals. Bacon is definitely back on the menu and this Rustic Chicken and Bacon tart recipe has been given a healthy makeover and will become a family favourite.
RUSTIC CHICKEN AND BACON TART
Preparation time – 30 minutes
Cooking time – 30 minutes
Serves – 4
INGREDIENTS
– 1 medium red onion (finely diced)
– 2 tablespoons brown sugar
– 1 tablespoon balsamic vinegar
– 250gm lean chicken mince
– 4 rashers Oliving with Hans Rindless Pan-sized Bacon rashers (finely diced)
– 1 medium zucchini (grated)
– 1 medium carrot (grated)
– 3 tablespoons tomato paste
– 2 sprigs of fresh lemon thyme (leaves removed from stem) or substitute with dried thyme
– Salt and pepper for seasoning
– 100gm Olive oil spread (straight from the fridge)
– 2 cups plain flour
– 4 tablespoons ice cold water.
METHOD
FILLING
– Heat a large fry pan on medium heat.
– Drizzle a little Olive Oil and add the diced onion, brown sugar and balsamic vinegar.
– Allow the onion to caramelize without burning, stirring regularly.
– Transfer the onion into a mixing bowl and set aside.
– Without wiping out the fry pan, add the chicken mince and diced bacon and cook until browned.
– Add the chicken and bacon into the bowl containing the cooked onion.
– Add the grated zucchini, carrot, tomato paste, lemon thyme and season well with salt and pepper. Stir well until the mixture until combined.
PASTRY
– Preheat oven to 190C.
– Combine the flour and olive oil spread with your fingertips until it resembles bread crumbs.
– Add the ice cold water and use a dinner knife to mix together until clumps form.
– Quickly bind together using your hands.
– Place a 40cm sheet of baking paper straight on to your kitchen bench.
– Put the dough in the centre and use a rolling pin to roll it out until it is approximately 35 x 25cm.
– Carefully spoon the mixture into the centre of the pastry and spread out, leaving about 5cm clear around the edge.
– Gently lift the side of the pastry and start rolling up towards the centre. When you reach the corners simply fold over and gently press together.
– Lift the baking paper and place the tart onto a large baking tray.
– Bake for 30 minutes. After 10 minutes place a small piece of baking paper over the opening of the tart to stop the mixture from browning too much and drying out.
– After removing from the oven, allow to sit for 5 minutes. Cut into 4 slices for serving.
– A green leafy salad and some garlic aioli make a great accompaniment to this dish.
Note – If you are short on time, you can use filo pastry to make the shell. Simply spray 4 sheets of filo pastry with non-stick cooking spray and place on top of each other and then fold up in the same way.
Oliving by Hans will be available at Coles, Woolworths and IGA supermarkets. Some stores will already have the range instore and the rest will follow by the end of October. 
Discover the full product range of Oliving by Hans and start planning all those dishes you have not made for a while. You cannot go wrong with this new range of deli meats that have less fat without compromising flavour. Oliving by Hans is the right choice of smallgoods for your family and they will just love them.
The Giveaway
To celebrate this great new range, we have 3 x $100 vouchers to give away to lucky mums. Simply complete the form below for your chance to select your choice of deli meats with the compliments of Oliving by Hans.